Ich kenne kein Weekend
16 Sep 2015 - 24 Jan 2016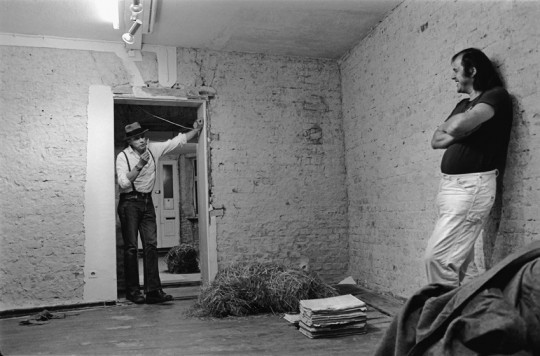 Joseph Beuys, René Block, Ausstellung Ja, jetzt brechen wir hier den Scheiß ab, Galerie René Bock, Berlin 1979, Foto: Christiane Hartmann
ICH KENNE KEIN WEEKEND
Archive and Collection René Block
16 September 2015 – 24 January 2016

Curator: Marius Babias
Co-Curator: Annelie Lütgens

With the exhibition Ich kenne kein Weekend. Archive and Collection René Block, Neuer Berliner Kunstverein (n.b.k.), in cooperation with Berlinische Galerie – Landesmuseum für Moderne Kunst, Fotografie und Architektur and Lentos Kunstmuseum Linz, is dedicating a show to the manifold and interdisciplinary work of gallery owner and exhibition organizer René Block. Block's career began in 1964 in West Berlin, where he opened his gallery with the legendary show Neodada, Pop, Décollage, Kapitalistischer Realismus, presenting at the time unknown artists such as Joseph Beuys, Nam June Paik, Sigmar Polke, Gerhard Richter and Wolf Vostell. Being one of the pioneers to promote intermedia art, Fluxus and happenings, René Block played a decisive role in the Neo-Avantgarde. As director of the Visual Arts department of the DAAD as well as the ifa – Institute for Foreign Cultural Relations, Museum Fridericianum, Kunstraum Tanas and as the initiator and director of numerous biennials worldwide, Block established a unique story of tracking, showing, collecting and exhibiting modern art. Neuer Berliner Kunstverein presents works of art and favorite pieces from the curatorial work of René Block since 1964. The focus of the presentation at Berlinische Galerie is on materials, documents, photographs and films from the archive of Block. Additionally on show, there are works of art, which were created on the occasion of numerous exhibition projects.

Neuer Berliner Kunstverein
Geschichte und Geschichten (History and Stories)
Nevin Aladağ, Halil Altındere, Joseph Beuys, Claus Böhmler, George Brecht, KP Brehmer, Bazon Brock, Marcel Broodthaers, Elina Brotherus, Stanley Brouwn, John Cage, Cengiz Çekil, Giuseppe Chiari, Henning Christiansen, Braco Dimitrijević, Maria Eichhorn, Ayşe Erkmen, Robert Filliou, Terry Fox, Ludwig Gosewitz, Richard Hamilton und Dieter Roth, Al Hansen, Mona Hatoum, Dick Higgins, Karl Horst Hödicke, Jytte Høy, Pravdoliub Ivanov, Sanja Iveković, Nina Jansen, Aino Kanisto, Allan Kaprow, Gülsün Karamustafa, On Kawara, Arthur Köpcke, Julius Koller, Jarosław Kozłowski, Alicja Kwade, George Maciunas, Mangelos, Piero Manzoni, Olaf Metzel, Aydan Murtezaoğlu, Bjørn Nørgaard, Şener Özmen und Erkan Özgen, Ebru Özseçen, Füsün Onur, Nam June Paik, Sigmar Polke, Gerhard Richter, Dieter Roth, Reiner Ruthenbeck, Sarkis, Tomas Schmit, Endre Tót, Nasan Tur, Mariana Vassileva, Ben Vautier, Wolf Vostell, Emmett Williams, Maria Wirkkala, Rémy Zaugg u. a.

Berlinische Galerie
Archive Block 1964–2014
Materials, documents, photographs and films; works by Hüseyin Bahri Alptekin, Halil Altındere, Joseph Beuys, Stanley Brouwn, Richard Hamilton, Dick Higgins, Karl Horst Hödicke, Allan Kaprow, On Kawara, Ute Klophaus, Olaf Metzel, Jürgen Müller-Schneck, Aydan Murtezaoğlu, Nam June Paik, Angelika Platen, Sigmar Polke, Tomas Schmit, Günther Uecker, Ben Vautier, Wolf Vostell a. o.

The exhibition is on show from March 18 to June 5, 2016 at Lentos Kunstmuseum Linz.