Neuer Berliner Kunstverein (n.b.k.)

The Neuer Berliner Kunstverein (n.b.k.) is a site of contemporary art and discourse production. It was founded in 1969 with the goal of presenting contemporary fine art to a broader public, and of inviting that public to actively participate in cultural processes.

In 1970, n.b.k. founded one of Germany's first "Artotheken," from which art enthusiasts can borrow from over 4,000 works of international art from the twentieth and twenty-first century free of charge. Artothek mobil creates exhibitions for public institutions, schools, and businesses. With the new design of the usage zones, n.b.k. will be presenting the Artothek collection with changing thematic emphases and in various forms of presentation. With the Video-Forum, n.b.k. possesses a collection of over 1,600 international art videos that has constantly been expanding since its founding in 1971. Since the summer of 2008, the holdings of the Video-Forum have been viewable in a separate space. Presentations and screenings relevant to the collection explore current and historical developments in video art. Both collections—Artothek and Video-Forum—are open to the general public, and offer space for experimental art and cultural education.

n.b.k. and its partners aim to promote recent artistic developments and underline the social importance of current art. Together with Verlag der Buchhandlung Walther König, n.b.k. publishes the book series "n.b.k. Exhibitions", "n.b.k. Discourse," and "n.b.k. Berlin". "n.b.k. Exhibitions" will provide information about the artists exhibited. "n.b.k. Discourse" will present current approaches in the theory and practice of art. "n.b.k. Berlin" will provide insights into Berlin's cultural life. n.b.k. understands itself as a platform for the young art scene in Berlin. The residency program of n.b.k. with its studio apartment in the renovated garden city Atlantic, Berlin-Gesundbrunnen offers fellows the opportunity to explore Berlin and develop projects.

Neuer Berliner Kunstverein (n.b.k.) is funded by the LOTTO-Stiftung Berlin and the Berlin Senate Department for Culture and Europe.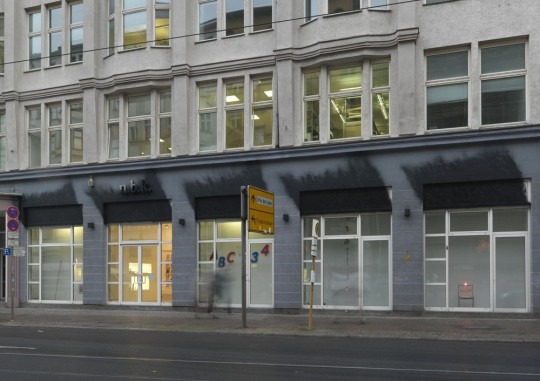 n.b.k. Facade: Thomas Hirschhorn, 6 Feuer, 2016