Rodney Mcmillian
23 Jan - 06 Mar 2010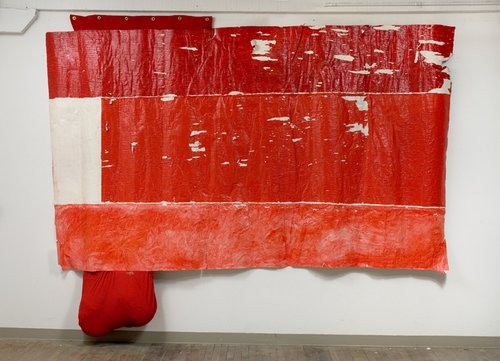 © Rodney Mcmillian
Untitled (flag)", 2006-2008
Mixed media, acrylic on un-stretched canvas, fabric, grommets,
Approx. 11 x. 9.5 x 1.5 ft.
RODNEY MCMILLIAN
"Succulent"

January 23 - March 6, 2010

Susanne Vielmetter Los Angeles Projects has moved to a new building, located just a few blocks west from our previous location, at 6006 Washington Boulevard in Culver City.

We are pleased to inaugurate our new gallery space with a solo exhibition of new work by Rodney McMillian. Encompassing a wide range of media, McMillian's work is at heart a highly poetic investigation of an American social history, as it manifests itself from political reality to the deeply personal spheres of the home and the body.

In his last solo exhibition at the ICA Boston McMillian offered a look at the social, political, and personal connotations that construct the place we call "home". In this exhibition, McMillian develops this conversation further to investigate how political realities reach beyond the home to the body. Entitled "Succulent" the exhibition centers on a large hand-sewn painting containing a sphincter, an orifice that mediates consumption and waste and that acts as a liminal space between inside and outside. Also on view will be a video showing the artist's hands in motion as if conducting an orchestra, an arrangement of painted columnar sculptures, and a group of succulents that were grown by the artist for the exhibition.

In the second gallery space, McMillian presents a hand-sewn room made from black vinyl fabric. The fabric covers the walls, the ceiling and the floor of the entire gallery space. Fusing spatial and bodily categories, the vinyl room is a poignant reminder of how cultural meaning and aesthetic form are inherently linked.

Born in Columbia, South Carolina in 1969, McMillian lives and works in Los Angeles. He received his MFA in 2002 from the California Institute of the Arts and his BFA at the School of the Art Institute of Chicago. McMillian has had solo exhibitions at Momentum 14, ICA Boston, Boston (2009), at the Kitchen, New York (2008); ArtNova, ArtBasel Miami Beach (2006); and at Triple Candie, New York (2005). His work has been featured prominently in important group exhibitions, such as the Whitney Biennial, New York, 30 Americans, the Rubell Collection, Miami, Ordinary Culture: Heikes/Helms/McMillian at the Walker Art Center, Minneapolis; Painting in Tongues at the Museum of Contemporary Art Los Angeles; in Uncertain States of America at the Astrup Fearnley Museum of Art, Oslo, and traveling to Serpentine Gallery, London, Bard Museum Center for Curatorial Studies, Annandale-on-Hudson. His work has also been featured in Thing - New Sculpture from Los Angeles, UCLA Hammer Museum, Los Angeles; in Frequency, Studio Museum in Harlem, Harlem; in White Noise, REDCAT Gallery, Los Angeles; and in USA Today at the Royal Academy of Art, London. This is Rodney McMillian's third solo exhibition at the gallery.

Also on view in the new gallery's viewing spaces will be an inaugural group exhibition with selected new works by gallery artists. Presented in sections, this exhibition will span over several months with the first section including works by Andrea Bowers, Edgar Arceneaux, Jedediah Caesar, Olga Koumoundouros, Patrick Wilson, Steve Roden, Ruben Ochoa and Amy Sillman.

Housed in a former industrial warehouse, the new roughly 8000 sqf gallery space features four large exhibition spaces, an open bow truss ceiling, and a massive work / storage area. Led by architect Peter Zellner, the renovation of the building was completed by HWI Construction, who have built, among others, for Frank Gehry, Phillip Lim, and CalArts. Architect Peter Zellner is the designer of contemporary art spaces in the Los Angeles area such as the Sweeney Art Gallery for UC Riverside, LAXART, and the REDCAT Lounge as well as New York galleries Wallspace, Maccarone Inc., and Harris Lieberman. His firm, ZELLNERPLUS, is now at work on the new Matthew Marks Gallery in West Hollywood.

Susanne Vielmetter Los Angeles Projects is located at 6006 Washington Blvd in Culver City, 1 block west of La Cienega at Sentney Avenue, on the south side of the street. Gallery parking is available across the street from the gallery off of Sentney Avenue. Gallery Hours are Tuesday through Saturday from 11 am - 6 pm and by appointment.