Hernan Bas
08 Sep - 27 Oct 2012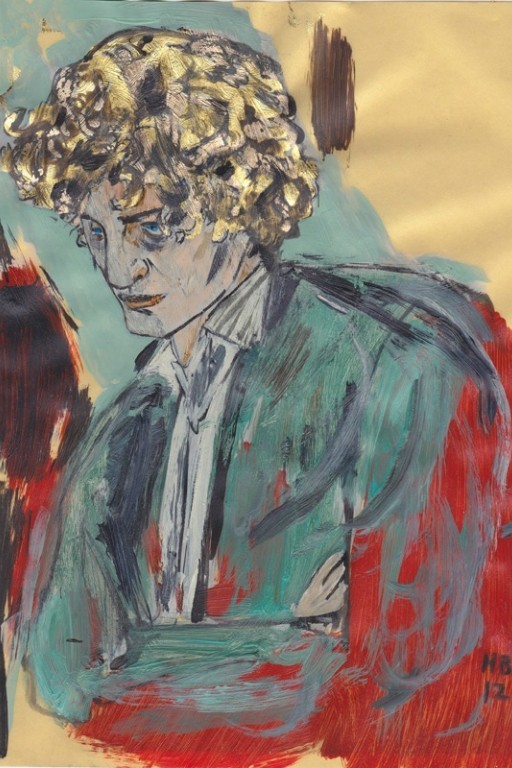 © Hernan Bas
"Unknown poet # 5 (he thought Baudelaire overrated)", 2012
Acrylic, 24K gold leaf and graphite on gold dusted paper
28 x 21,6 cm / 11 x 8.5 inches
HERNAN BAS
Thirty-six Unknown Poets (or, decorative objects for the homosexual home)
8 September - 27 October 2012

Galerie Perrotin, Paris is organising a solo show entitled "Thirty-six Unknown Poets (or, decorative objects for the homosexual home)" by the American artist, Hernan Bas from September 8th to October 27th, 2012.
His new works presented at the Gallery explore the relationship between art and décor, celebrating 36 'poètes maudits'. For the first time he is using gold-leaf in his drawings and paintings with 'Klimtian' accents and is also unveiling Japanese-like screens inspired by Nabis such as Bonnard and Vuillard.

In his paintings, drawings and videos, Hernan Bas shows his fascination for the literary and artistic culture of the end of the 19th century, as well as his interest in the history of painting. The protagonists of these works are young, emaciated looking men that recall the nervous figures of Egon Schiele and the icons of contemporary fashion that inhabit a physical and mental space where they reinvent their identities.
These ethereal characters are often melancholy and solitary. They belong to the romantic and decadent literature of Lautréamont, Huysmans and Wilde, coming close to the installations and performances of Bas Jan Ader. They evolve in fauve coloured landscapes provoking an implicit eroticism such as masculine nudes of Hippolyte Flandrin and Thomas Eakins. Like Cecily Brown, Karen Kilimnik, Elisabeth Peyton and Peter Doig, Hernan Bas reinterprets classical painting and finds inspiration in the myths and famous figures of literature and poetry, but also in contemporary media.
In his paintings the protagonists are in the centre of the mysterious natural landscapes characterised by their rich, luxurious vegetation represented through a blend of realism and abstraction. His characters are rarely caught in action, but are contemplative in their observation of an often chaotic and oppressive environment that surrounds them. Detailed and precise painting alternates with an approach that is more gestural or with a composition of shapes that recalls collage. The sombre tones of the gothic visions that reinterpret the universe of the occult and the supernatural, contrast with certain brightly colored landscapes that communicate a feeling of oneness with nature.