Peter Moore
03 Mar - 18 Apr 2015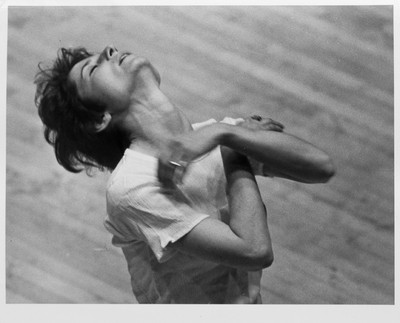 Peter Moore
[Simone Forti], 1969
gelatin silver print
paper: 8 x 10 in. (20.3 x 25.4 cm); image: 7 5/16 x 9 1/2 in. (18.6 x 24.1 cm)
© Barbara Moore / Licensed by VAGA, New York, NY.
PETER MOORE
3 March - 18 April 2015

NEW YORK—The Paula Cooper Gallery is pleased to present an exhibition of photographs by Peter Moore (1932-1993). The exhibition will be on view in the front gallery of 534 West 21st Street from March 3rd through April 18th. There will be an opening reception on March 13th from 6 – 8pm.

In the early 1960s, Moore began documenting the avant-garde art scene in New York, capturing in his photographs the defiance and spirit of the era's experimental performances.

Among the most radical were those staged by female artists, poetically preserved through Moore's thoughtful eye. His photographs often provide the sole visual records of the ephemeral events choreographed by artists like Lucinda Childs, Simone Forti, Anna Halprin, Deborah Hay, Joan Jonas, Alison Knowles, Charlotte Moorman, Yoko Ono, Yvonne Rainer and Jackie Winsor. His pictures relate the sensuality and excess of Carolee Schneemann's "Meat Joy" (1964) staged at the historic Judson Memorial Church, the formalized and abstracted experience of Meredith Monk's "Juice Part I" (1969) set along the spiraling ramp of the Guggenheim's interior, and the spirit and spectacle of Trisha Brown's "Man Walking Down the Side of a Building" (1970) as Joseph Schlichter scales the rear facade of 80 Wooster Street.

Moore's photographs have been widely published in texts about the period, including Democracy's Body: Judson Dance Theater, 1962-1964 (1983), In the Spirit of Fluxus (1993), Yvonne Rainer: Radical Juxtapositions 1961-2002 (2002), and Critical Mass: Happenings, Fluxus, Performance, Intermedia and Rutgers University 1958-1972 (2003); among others.

Born in London, Moore attended Haverford College and Massachusetts Institute of Technology. He began his career in New York as a photo lab technician at Life magazine and an assistant to O. Winston Link. In the 1970s and 1980s, Moore wrote prolifically on the mechanics of photography and later worked as the Senior Technical Editor at Modern Photography magazine.

His work was included in the 1970 show "Happenings and Fluxus" at the Kölnischer Kunstverein in Cologne, Germany; "Alternative Gestures: Another Look at Dance Photography" at P.S. 1, Long Island City, New York (1978); the Fluxus pavilion at the 1990 Venice Biennale; "In the Spirit of Fluxus" at the Walker Art Center in 1993; "Art, Lies and Videotape" at Tate Liverpool (2003); "Street Art Street Life" at the Bronx Museum (on view through January 25, 2009), among many others. He has had one-person exhibitions around the world, including Ecart, Geneva, Switzerland (1980); Gallery 360, Tokyo, Japan (1989); Galerie Alfred Kren, Cologne, Germany ("The Avant-Garde Observed," 1990); and at Sonnabend Gallery in New York in 2004. In 2000, D.A.P. published The Destruction of Penn Station, which presented Moore's previously-unseen documentation of New York's Pennsylvania Station demolition. Moore's two previous shows at Paula Cooper Gallery were in 2009 and 2011. Most recently, his work was included in "Simone Forti. Thinking with the Body: A Retrospective in Motion" at the Museum der Moderne in Salzburg (2014), "Nam June Paik: Becoming Robot" at the Asia Society in New York (2014-15) and "The City Lost and Found: Capturing New York, Chicago, and Los Angeles: 1960-1980" at the Art Institute Chicago (2014-15).