Jack Goldstein
03 Oct 2009 - 10 Jan 2010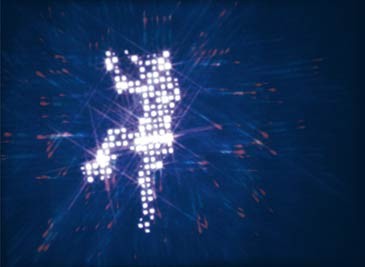 Jack Goldstein
The Jump, 1978
16mm, color, silent, 13 sec. (filmstill)
Courtesy Galerie Daniel Buchholz, Köln/Berlin und
The Estate of Jack Goldstein
JACK GOLDSTEIN

»Art should be a trailer for the future«
Jack Goldstein

The exhibition of Jack Goldstein is the first one in a new exhibition series, which focuses on comprehensive retrospectives the MMK devotes to selected artists of the collection. Jack Goldstein was born 1945 in Montreal, Canada, and died 2003 in San Bernardino , California, is one of the most important "artists' artists" of the last 30 years. Though he enjoys international appreciation amongst fellow artists and art experts, his oeuvre remains largely unknown to a broader public. Following his education at the Chouinard Art Institute in Los Angeles (1966-69) and later at the newly founded California Institute of the Arts in Valencia in John Baldessari's famous »Post-Studio Art«-class he worked both in Los Angeles and New York. The exhibition "Pictures" curated by art critic and theorist Douglas Crimp in 1977 in the »Artists Space« in New York spotlighted Troy Brauntuch, Sherrie Levine, Robert Longo and Jack Goldstein as a new generation of artists. Their work both set itself off from Minimalism and Pop Art while, at the same time, critically advancing both styles. In an interview Goldstein once said: »I am interested in the gap between Minimalism and Pop Art: in the object character and autonomy of Minimalism and the subject matter of our culture that is to be encountered in Pop Art.«
His extraordinary oeuvre stands out for its diversity and individuality: It embraces performance, film, recording, painting, visually-presented aphorisms and texts. For his critical exploration of the images of Western culture conveyed by the media he drew on techniques and images from the culture industry and advertising.
»Media is sensational« Goldstein wrote in an aphoristic essay for the documenta 7-catalog. This sentiment runs like a red thread through his work. In the 1980s Goldstein was considered one of the most promising artists of the Post-Pop Art movement alongside Richard Prince, Sherrie Levine, Robert Longo and David Salle.
The exhibition in the MMK is the first comprehensive museum exhibition in Germany since 1985. Goldstein, whose films and paintings were shown at documenta 7 (1982) and 8 (1987) respectively, had large solo exhibitions in America and Europe, more recently 2002 in »Le Magasin, Centre National d'Art Contemporain«, Grenoble.
The MMK exhibition will be accompanied by an extensive catalog with an interview Chris Dercon conducted with Jack Goldstein in 1985 and essays by Klaus Görner, Chrissie Iles and Shepherd Steiner.