Human Nature: Contemporary Art from the Collection
13 Mar - 04 Jul 2011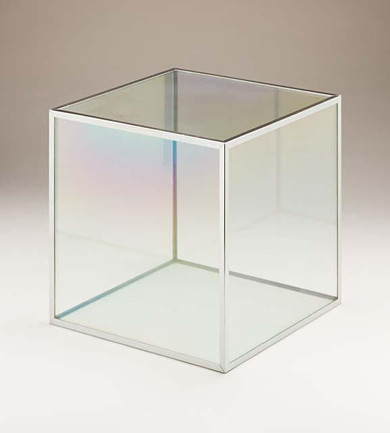 Larry Bell
Cube, 1966
Vacuum coated glass
12 1/8 x 12 1/8 x 12 1/8 in., Base: 46 5/8 x 12 3/8, 12 3/8 in.
Gift of Frederick R. Weisman Company.
HUMAN NATURE: CONTEMPORARY ART FROM THE COLLECTION
13 March – 4 July, 2011

Human Nature: Contemporary Art from the Collection presents approximately 75 works of art in diverse media, including painting, drawing, photography, video, and audio from the museum's permanent collection of contemporary art. Borrowing its title from a work by artist Bruce Nauman, Human Nature surveys work by artists who have made defining contributions to the recent art landscape, from 1968 to the present. Many of the works are on view for the first time since their acquisition, including pieces by Haegue Yang, Leslie Hewitt, Rachel Harrison, Glenn Ligon, Paul Pfeiffer, and Zhang Huan. The exhibition also includes works by Larry Bell, Sol Lewitt, Donald Judd, Joseph Kosuth, Bruce Nauman, Vito Acconci, George Herms, Betye Saar, Nam June Paik, Gerhard Richter, Mark Bradford, and others.
Celebrating its 50th anniversary this year, the museum's Modern and Contemporary Art Council (MCAC) has been instrumental in acquiring many works that will be on view in this exhibition. Founded in 1961, the MCAC is the longest-running support group for contemporary art at any museum in the country. LACMA's contemporary art holdings reflect the critical role the council's patronage plays as a cornerstone of collection development.