Karin Hueber
16 Nov 2008 - 30 Apr 2009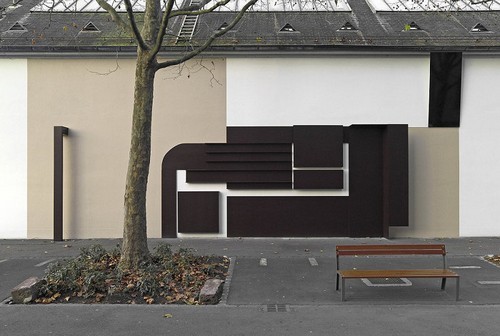 © Karin Hueber
"The Inside Out Exhibition"
Project at the back wall of the Kunsthalle Basel
November 2008
Photo: Serge Hasenböhler
© Kunsthalle Basel, 2008
KARIN HUEBER
"The Inside Out Exhibition"

16 November 2008–30 April 2009

Saturday, November 15, 2008
5pm: Inauguration of the new project for the back wall of Kunsthalle Basel. Followed by drinks and grill.

Karin Hueber (b. 1977) is engaged with architecture and its psychological impacts on people . By responding to the architectural characteristics of each exhibition venue, her minimal and elegant sculptures often change the common perception of space. For the back wall of Kunsthalle Basel the artist composed shiny and matt varnished wodden planes and volumes mounted on the wall. The geometrical, abstract design reminds through its shapes of wall claddings and furnishings , referring to a fragmented interior. Thus the reference to the interior (space?) turns into a subtle interrogation of the passageway between Kunsthalle and Elisabethenkirche.