Happy Birthday Franz!
05 Jul - 02 Aug 2014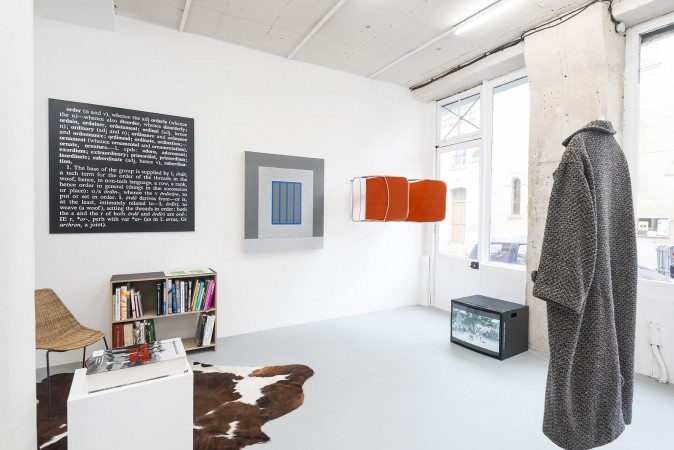 Joseph Kosuth, Untitled (Order), 2006, print on paper, glued on aluminium, 120 x 120 cm, courtesy the Franz Erhard Walther Foundation
Peter Halley, Blue Bars, 2077, Metallic acrylic, pearlescent acrylic and Roll-a-Tex on canvas, 114,5 x 101,5cm, courtesy galerie Xippas
Erwin Wurm, Make Your Own Franz Erhard Walther, 2001, Deck chair, pencil, © Erwin Wurm, courtesy Erwin Wurm
Prinz Gholam, Shadows, 2012, HD video transferred on DVD, 16:9, sound, color.
Coat offered by Martin Kippenberger to Franz Erhard Walther, Woolen Coat.
HAPPY BIRTHDAY FRANZ!
5 July - 2 August 2014

Vito Acconci, Richard Artschwager, Bernhard Blume, Barbara Brown, Domenico de Clario, Hanne Darboven, Peter Dürr, Lili Fischer, Wolfgang Flatz, Attalai Gábor, Karl Otto Götz, Dan Graham, Christoph Grau, Hans Haacke, Peter Halley, Dietrich Helms, Dick Higgins, Gerhard Hoehme, Gottfried Honegger, Jörg Immendorff, Allan Kaprow, Martin Kippenberger, Joseph Kosuth, Klaus Kumrow, Akira Kurosaki, Heinz Mack, Walter de Maria, Jonathan Meese, Maurizio Nannucci, Gunter Nolte, Hilka Nordhausen, Wolfgang Oppermann, Verena Pfisterer, Lil Picard, Sigmar Polke, Prinz Gholam, Timm Rautert, Max von Riccabona, Ulrike Rosenbach, Reiner Ruthenbeck, Fritz Schwegler, Fritz Seitz, Willoughby Sharp, Santiago Sierra, Karlfried Staubach, Jiří Valoch, Wolf Vostell, Richard Wake, Lawrence Weiner, Geert Westphal, Emmett Williams, Erwin Wurm,...

Franz Erhard Walther fêtera cette année ses 75 ans. A cette occasion, la galerie Jocelyn Wolff s'associe à ses proches, amis et artistes, pour célébrer son travail et témoigner de l'influence considérable qu'il a eue sur la scène artistique internationale depuis le début des années 1960. Après plusieurs années de collaboration et d'amitié, Jocelyn Wolff a voulu rendre hommage à l'artiste en invitant ses amis à participer au projet, organisé dans le plus grand secret : une carte postale, une œuvre en relation avec son travail, un objet qui évoque un souvenir personnel...

Pour cette exposition d'été, la galerie Jocelyn Wolff a le plaisir de présenter un ensemble d'œuvres spécialement choisies par certains de ses amis artistes que Franz Erhard Walther a découvert avec surprise au moment du vernissage : Bernhard Blume, Prinz Gholam, Dan Graham, Peter Halley, Martin Kippenberger, Kasper König, Joseph Kosuth, Klaus Kumrow, Heinz Mack, Jonathan Messe, Maurizio Nannucci, Wolfgang Oppermann, Sigmar Polke, Santiago Sierra, Erwim Wurm. Avec l'aide de la Fondation Franz Erhard Walther, une sélection de lettres, textes, notes et photographies tirés des archives personnelles de l'artiste est également présentée.

Un espace de lecture est aménagé dans la galerie pour consulter librement les deux étagères de catalogues et publications mis à disposition : l'une rassemble les publications sur le travail de Franz Erhard Walther, tandis que l'autre contient des catalogues de ses amis artistes avec lesquels il a entretenu une étroite relation.