Eden's Edge
13 May - 02 Sep 2007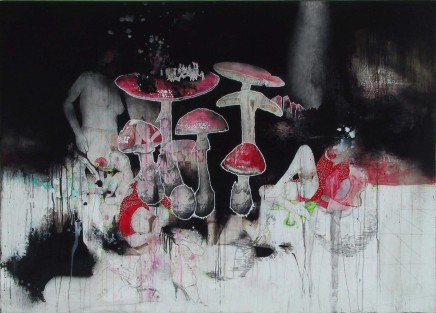 Matt Greene
We Beheld the Holograph of Our Second Selves (Why Did You Eat Us)
2004
Mixed media on canvas
Private Collection. Courtesy Peres Projects, Los Angeles Berlin.
Eden's Edge: Fifteen LA Artists
May 13 - September 2, 2007

Eden's Edge: Fifteen LA Artists is an exploration of art made in Los Angeles during the past decade that crosses generations, mediums, and materials to link artists who create work ingrained with intensely personal visions. The exhibition features the work of 15 artists—Ginny Bishton, Mark Bradford, Liz Craft, Sharon Ellis, Matt Greene, Elliott Hundley, Stanya Kahn & Harry Dodge, Monica Majoli, Matthew Monahan, Rebecca Morales, Lari Pittman, Ken Price, Jason Rhoades, Anna Sew Hoy, and Jim Shaw—who share a dedication to craft and mix a wide array of media to create fantasized, often ambiguous, worlds. The artists featured in Eden's Edge: Fifteen LA Artists share a perspective toward landscape and figure that investigates complex contradictions, which are inherent to life in Los Angeles and more broadly to contemporary American culture.

Eden's Edge: Fifteen LA Artists is organized by Gary Garrels, Chief Curator and Director of Exhibitions and Programs, Hammer Museum.