The Gesture and the Sign
03 Apr - 08 Jun 2013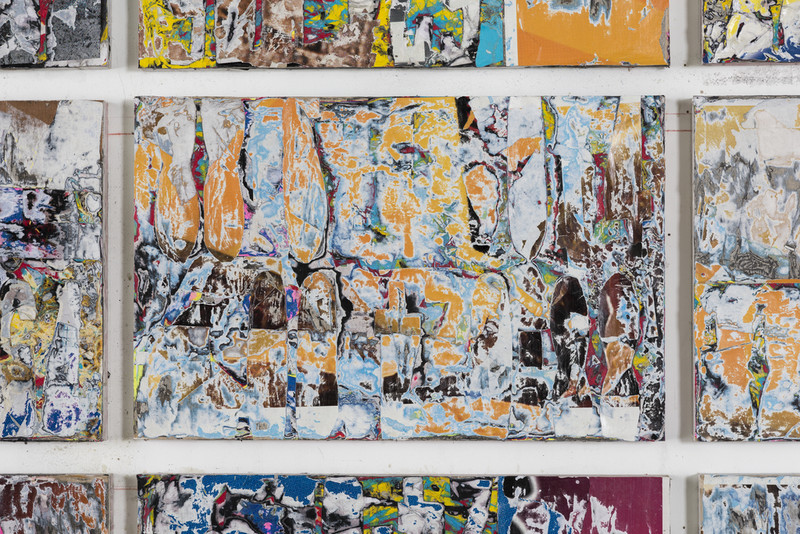 © Mark Bradford
Thievery by Servants (detail), 2013
Mixed media collage on wood frame
Overall dimensions: 118 x 358 in. (299.7 x 909.3 cm)
50 panels, each: 21 5/8 x 33 7/8 in. (55 x 86 cm)
THE GESTURE AND THE SIGN
3 April – 8 June 2013

'The Gesture and the Sign' features recent works by a range of international artists that take their cue from pictorial aspects of lyrical abstraction. With an emphasis on the actual process of painting, lyrical or gestural abstraction can be characterised by techniques that are governed by the artist's interaction with chance, intuition and circumstance. Triggered by diverse conditions and impulses, the paintings and works on paper in this exhibition share a common purpose in the primacy given to the gesture, the sign and material.

Artists such as Mark Bradford, Julie Mehretu, Sterling Ruby and Daniel Senise apply abstraction as a means of observing, negotiating or deconstructing an increasingly mediated world. In Mark Bradford's large-scale, multi-part work, he uses materials found in the vicinity of his Los Angeles studio (in this case, a merchant poster featuring the telephone number for a 'Slip and Fall' lawyer) as the basis for an epic, dense and visually complex composition. The spray painted, hallucinatory canvases of Sterling Ruby also draw influence from his local neighbourhood, here in the form of gang graffiti and the power struggles associated with tagging, defacement and dominion of territory. Julie Mehretu's dynamic, layered compositions feature intuitive gesture, architectural information and visual signs that build into a maelstrom of time, place and art history, while the abstract compositions of Daniel Senise combine materials embedded and marked with an implied history, which are then overlaid with a pristine white monochrome as an erasure of the past.

Accident, failure and alchemy all play a part in the paintings of Sergej Jensen, David Ostrowski and Jacob Kassay. In Sergej Jensen's work, fabrics such as burlap, linen and wool are incorporated to create minimalist paintings that focus on the incidental and the random. David Ostrowski's practice likewise embraces the idea of chance and error, producing a range of gestural 'imperfections' in his 'Fehlermalerei' ('mistake paintings'). The silver-plated paintings of Jacob Kassay are made by covering the surface of the canvas in white acrylic before they are treated with a chemical process that transforms their surfaces into shimmering variations on the monochrome.

The contingency of Damien Hirst's spin paintings point to the foundation of gestural abstraction, which places significance on techniques such as dripping, dabbing or flinging paint onto the surface of a canvas. The energetic execution of the painting is governed by the artist's control, and the immediacy of the gesture is captured and locked in an instant. In Kristin Baker's work, previously described as 'dystopian Colour Field painting', the contours are composed more deliberately using taped outlines and broad washes of luminous colour, onto which gestural passages and marks are then spontaneously added.

'The Gesture and the Sign' is curated by Susan May, Artistic Director, White Cube.