You Dig the Tunnel, I'll Hide the Soil
04 Apr - 10 May 2008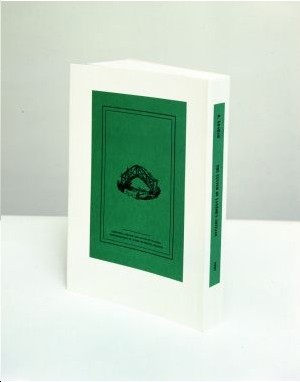 © Rodney Graham
The System of Landor's Cottage. A Pendant to Poe's Last Story
1987
Edition of 250
Paperback book, 312pp
9 7/16 x 6 5/16 in. (24 x 16 cm)
You Dig the Tunnel, I'll Hide the Soil

4 Apr—10 May 2008
Hoxton Square

White Cube Hoxton Square was pleased to present 'You Dig the Tunnel, I'll Hide the Soil', curated by the artist and writer Harland Miller in collaboration with Irene Bradbury. In anticipation of the bicentenary of Edgar Allan Poe's birth (1809), the exhibition explored the enduring legacy and cult status of the American writer.
Harland Miller discovered Poe as a child while recovering from a bungled appendix operation in York County Hospital, where he found an early-learner edition of Poe's The Fall of the House of Usher and Other Writings, which he remembers as having alleviated much of the misery of this time. Using crayons and a drawing pad he began writing and illustrating his own versions of these stories, and he has always cited Poe as his first literary influence. When Miller was writer in residence at the ICA, he began thinking about a project that would consider not only the abiding appeal of Poe but also some of the more diverse responses to his work. This exhibition was the result of that initial idea.
Poe is now recognised as an artist far ahead of his time, particularly for the charged psychological facets of his work, which seemed to foretell psychoanalysis, pre-dating Freud by more than half a century. His famous detective, Dupin, became the blueprint for many future detectives, including Sherlock Holmes, Poirot and Miss Marple, and he is also a pioneer of what we now know as science fiction, influencing such writers as Jules Verne and H. G. Wells. However, Miller felt that Poe had become synonymous with whatever is merely gothic or dark, a misconception that he wanted to address by curating this exhibition. 'There's a real distinction here', says Miller. 'It was really telling when we'd approach people and they'd say, "Oh yeah, I've got this painting which is nearly all black!" That was really disappointing.' Miller sought to address this glib association by selecting a dozen of Poe's stories that seemed to lend themselves most to a more contemporary interpretation. Wherever he noticed a connection to an artist's existing work, life or practice, he approached them to read the stories and asked them to respond in any manner they saw fit and to interpret the story with a new work.
'Some of the ways in which I went about this were very tenuous,' Miller explains. 'It didn't always have to be about this great debt to Poe or some kind of extravagant mystery bound up in a cipher. With Damien Hirst, for instance, I did actually think he'd really love the story, but what really made me think of him was Poe's title The Startling Effects of Mesmerism on a Dying Man, which reminded me so much of the rhythm in one of Hirst's own titles, which I really love.'
This exhibition brought together a broad range of these responses, from 34 artists, ranging from painting and sculpture to installation, digital media and performance, as well as existing works such as Douglas Gordon's Sleeper (Portrait to Edgar Allan Poe) (2002) and Mike Nelson's installation Melnais Kakis (The Black Cat) (1999).
'You Dig the Tunnel, I'll Hide the Soil' featured the work of Fergus Bremner, Jake & Dinos Chapman, John Cooper Clarke, Liz Craft, Tracey Emin, Angus Fairhurst, Katharina Fritsch, Paul Fryer, Barnaby Furnas, Douglas Gordon, Rodney Graham, Marcus Harvey, Anton Henning, Damien Hirst, Anselm Kiefer, Abigail Lane, Christian Marclay, Kris Martin, Harland Miller, Polly Morgan, Mike Nelson, Magnus Plessen, Michele Howarth Rashman, Julian Schnabel, Gregor Schneider, Norbert Schoerner, George Shaw, Cindy Sherman, Jason Shulman, Dirk Skreber, Paul Steinitz, Fred Tomaselli, Jane & Louise Wilson and Cerith Wyn Evans.
The exhibition was staged in both White Cube Hoxton Square and Shoreditch Town Hall.
A fully illustrated exhibition guide with a short story by Harland Miller was produced to accompany the exhibition.