Crosstown Traffic
12 Feb - 10 Apr 2010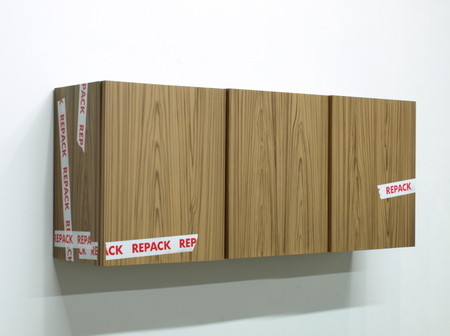 © Kaz Oshiro
"Three Door Cabinet (Repack Tape)"2010
acrylic on canvas
50.8 x 115.5 x 30.4 cm - 20 1/8 x 45 1/2 x 11 "
CROSSTOWN TRAFFIC

Feb 12 - Apr 10, 2010

Cristian Andersen / David Renggli, Richard Artschwager, Lothar Hempel, Kaz Oshiro, Ken Price, Amanda Ross-Ho, Ed Ruscha, Steven Shearer

The exhibition brings together a group of artists from different backgrounds and generations whose work suggests a common attitude in terms of how they perceive, process, dissolve, and transform everyday impressions. Important works by Richard Artschwager, Ken Price, and Ed Ruscha will be presented, and contrasted with outstanding works by a younger generation, represented by Cristian Andersen, Lothar Hempel, Kaz Oshiro, David Renggli, Amanda Ross-Ho, and Steven Shearer.

Richard Artschwager (born in 1923) will be presented with a work from the Crates series. These are objects that appear like transportation crates, carefully worked, reinforced and bolted, made of untreated pinewood. What confounds us is the form which seems to point to a possible content; however, here the "packaging" is the content. Furthermore, Artschwager plays with the context, the gallery space, which is normally indented for the presentation of art. The crates appear as art or as placeholders for what the beholder imagines to be their content. For more than four decades, Artschwager has forged a unique and maverick path in twentieth century art by confounding its generic limits, all the while making the visual comprehension of space and the everyday objects that occupy it strangely unfamiliar.A group of the "crate" objects is currently also on display as part of the Flick Collection at Hamburger Bahnhof, Berlin.

For 50 years Ken Price (b. 1935) has made small-scale, brightly colored ceramic sculptures with exquisitely worked glazed and painted surfaces in which he strives to achieve a balance between form and surface. He has recently begun to make works in much larger sizes. His youthful experiences as a surfer in Los Angeles have greatly influenced his art, which he explains as the manifestation of what he finds pleasurable. Price had his first solo exhibition at Ferus Gallery, Los Angeles, in 1960, where he showed alongside other LA artists, including Wallace Berman and Ed Ruscha. The Menil Collection in Houston mounted a retrospective of Price's work in 1992, and in 2004 the Chinati Foundation, in Marfa, Texas, mounted a survey show of his work from the previous decade. The Los Angeles County Museum of Art is currently organizing a retrospective exhibition for 2012. Price lives and works in Taos, New Mexico, and Venice, California.He is represented by Xavier Hufkens, Brussels and Matthew Marks, New York, who is currently having a solo exhibition with the artist.

Ed Ruscha (b. 1937) has consistently combined the cityscape of Los Angeles with vernacular language to communicate a particular urban experience. Encompassing photography, drawing, painting, and artist books, Ruscha's work holds the mirror up to the banality of urban life and gives order to the barrage of mass media-fed images and information that confront us daily. Formative for Ed Ruscha's choice of motifs was his direct life environment, the US in the 1950s and 1960s. He isolates phenomena of mass culture such as lettering from the film and advertising industries from their original contexts, opening up completely new interpretations for the beholder. His work has been shown in numerous museum exhibitions; currently Munich's Haus der Kunst is devoting a comprehensive retrospective to him.

The meticulous sculptural practice of Kaz Oshiro (b. 1967) examines authenticity and human perception. Canvases are stretched over wooden frames, and with acrylic paint the Los Angeles artist crafts convincing facsimiles of ordinary objects. Oshiro constructs and paints canvas in three dimensions to create his paintings, and all are rendered in the same size as the objects after which the works are modeled.Kaz Oshiro's works are replete with visual intrigue in that the artist's representations are astonishingly realistic. Commonplace items, not traditionally considered beautiful or visually interesting, are imbued with new life through Oshiro's trompe l'oeil style. In depicting mundane objects, at first glance the artist strips the artwork of its artistic aura. Devoid of any haughty artistic assumptions, Oshiro's works are based on familiar objects, the value of which initially seems nominal, yet their visual intrigue forces the viewer to rethink the work.The three-dimensionality and realism of the works create a conundrum for the viewer, who is forced to address the tension between facade and reality. Oshiro openly displays the secret behind his work: the back of the canvas on its stretchers is visible to the viewer. Oshiro takes the abstract nature of minimalist concepts and creates works between abstraction and realism, pop and minimalism, and sculpture and painting.Kaz Oshiro has exhibited in the United States and abroad including: the Asia Society and Museum, New York; UCLA Hammer Museum, Los Angeles; Las Vegas Art Museum.

Amanda Ross-Ho (b. 1975) demonstrates an ongoing interest in locating understanding through inversion. She recontextualizes images and objects with intimate—rather than generic—origins. Ross-Ho's careful mediation suggests the possible universality of the personal. Her objects display both individual qualities and "sibling" identities, playing on traits of familial exchange and proximal relativity.Ross-Ho became known through her participation in the Whitney Biennial in 2008. She has shown at the Saatchi Gallery in London, Drawing Center, NY and Orange County Museum of Art. Currently she has a solo exhibition at the Pomona Museum of Art, California, and will exhibit at the Museum of Contemporary Art in Chicago later this year. Forthcoming are also gallery exhibitions at Cherry & Martin, Los Angeles and Mitchell-Innes & Nash, New York.

Working across a wide range of media, Lothar Hempel (b. 1966) stages elaborate theatrical possibilities, placing the viewers as autonomous characters engaging in his constructed dramas according to their free will. Stemming from an interest in value and identification systems, Hempel's paintings exist as potential casts for his interactive dilemmas. Underlying themes of contemporary politics are neutralized for the viewer, creating not a portrait, but an instance of ethical quandary.Lothar Hempel has shown at galleries such as Andrea Rosen, New York, Marc Foxx, Los Angeles, Greenberg van Doren, New York, Daniel Buchholz, Cologne. He will have solo exhibitions with c/o Gerhardsen Gerner, Berlin and Stuart Shave/Modern Art, London this spring.

Steven Shearer ́s (b. 1968) work spans a wide range of media, including painting, drawing, photo collage, sculpture, and installation. His ostensible focus is on found image material often depicting youthful rock fans or a teenage lifestyle. Shearer collects a large part of his material from the Internet. In this way, he has assembled a huge archive made up of images that were always intended for publication. What Steven Shearer does to them is to bring them in an art context. Displaying this flood of images in photo collages like Boy's Life, he examines the interrelations between autobiography and stereotype. As used in his works, these images become ciphers for the acceleration of the visual universe.Steven Shearer had solo exhibitions at The New Museum, New York, The Power Plant Gallery, Toronto and De Appel Museum, Amsterdam.

Cristian Andersen (b. 1974) belongs to a generation of young Swiss artists who engage with their times and social context without however wanting to articulate their political stance explicitly. Urban civilization, and no-man's lands in the city, but also apparently untouched nature, play an important role both as a setting for his art, and also as sources of inspiration. Before this background, he created a number of works over the past couple of years, where topics reflecting time from his direct social context are charged with historical symbolism.
Andersen has exhibited at Kunstmuseum Thun, Frac des Pays de la Loire Nantes, Bregenzer Kunstverein Fotomuseum Winterthur and will be participating in the Danish Pavillion of Expo 2010 in Shanghai.

The unanticipated conjunction of a multiplicity of various everyday materials and motifs characterize the sculptural objects and spatial installations of David Renggil (born 1974). Renggli creates apparently known objects, which upon closer inspection frequently emerge to the observer as surreal, absurd grotesques because of their material composition or the combination of objects. The moment of surprise shapes the aesthetic principle which is a recurrent theme in Renggli's work.David Renggli's work has been shown in numerous international exhibitions, including Tate Britain, Migros Museum, Zurich, Kunsthaus Zurich, Kunstraum Baden, and Swiss Institute New York.

The series of large-scale collages is a collaboration between Cristian Andersen and David Renggli and was first shown in a solo exhibition at Kunstmuseum Baden in Switzerland. The collage is an ideal medium for representing the hybrid and fragmentary nature of current times. Based on images taken from print media and databases, their series of large collages show the reorganization of reality fragments of into new configurations.