Patrick Jackson
06 Mar - 18 Apr 2015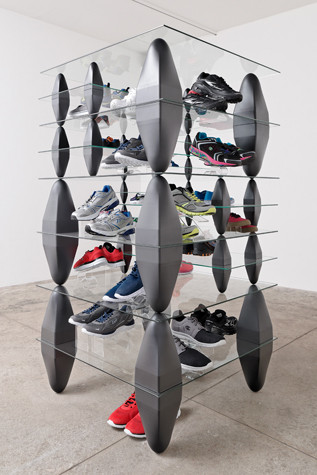 © Patrick Jackson
Shelving Unit, 2015
Glass, plastic, shoes
67 1/2 x 36 x 36 in.
Unique piece
Photo : Aurélien Mole
PATRICK JACKSON
Shelving Unit
6 March - 18 April 2015

In our project space, Patrick Jackson presents Shelving Unit, a freestanding shelf composed of glass and matte black, plastic columns. Each column is shaped like a square morphing into a sphere, set between sheets of glass and alternately rotated, resulting in pillars reminiscent of Brancusi's Endless Column. This version of Shelving Unit is stocked with brand new sneakers.

"I think of these shelves as machines, indifferent to what they hold. Cold, precise, modular, they can be configured to accommodate any object: small, medium or large. Products will change over time, but these structures are indifferent, ready to present whatever comes along. I imagine them in great numbers, filling a department store of the future, or some Sci-Fi version of one. A mass produced army, offering objects as incessant as the columns that support them."

The series of Shelving Units – also sometimes named as Tchotchke Stacks – has been running in Patrick Jackson's work since 2010, giving the artist a pretext to exercise his avid practice of collector. But the goal, here, is not the search of taxonomy or an inventory, but to create equilibrium.

The searched result, accentuated by the use of the glass material, is of a "semantic vacuum", a feeling of nothingness rather than specialness, of fragility and defamiliarization that brings the work in the conceptual and emotional fields rather than in the material or technical ones.

Other series by Patrick Jackson, using terracotta and ceramics for example, confirms the orientation visible in the Shelving Unit series: how to integrate the formal interrogations of Modernist sculpture in a mundane context, without versing into the Aesthetics of Pop Culture?

Patrick Jackson (born in 1978) earned his BFA from the San Francisco Art Institute (2002) and his MFA from the University of Southern California (2007). He lives andworks in Los Angeles, CA.

Working primarily in sculpture, Patrick Jackson had exhibitions in galleries and institutions internationally, including François Ghebaly Gallery, the Hammer Museum in Los Angeles, Nicole Klagsbrun Gallery in New York, The Soap Factory in Minneapolis, and CAPC Musée d'Art Contemporain in Bordeaux.