U-Turn Quadrennial 2008
05 Sep - 09 Nov 2008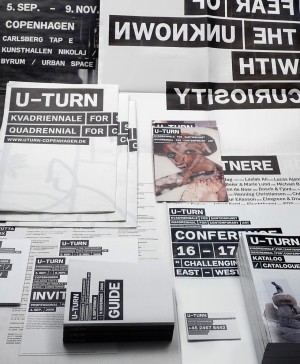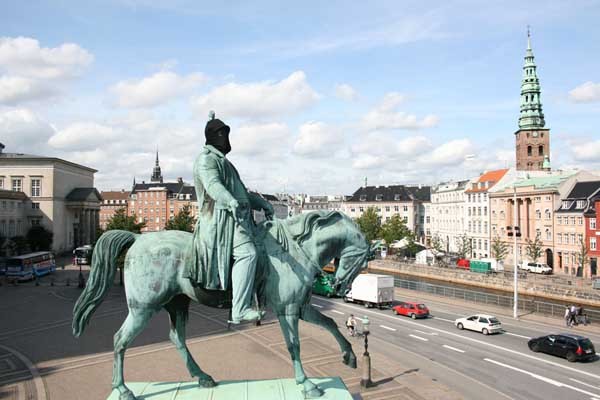 Daniel Knorr: Stolen History
Intervention, materialization
U-TURN, Quadriennale for contemporary art, Copenhagen, 2008
U-TURN
Quadrennial for Contemporary Art
5 September - 9 November 2008
Copenhagen

Curators:
Judith Schwarzbart, Solvej Helweg Ovesen and Charlotte Bagger Brandt

Participating artists
A-kassen, Nevin Aladag, Laylah Ali, Lucas Ajemian, Fredrik Auster, Nina Beier & Marie Lund, Michael Beutler, Bik van der Pol, Manon de Boer, Bosch & Fjord, Irina Botea, Jota Castro, Henning Christansen, Chto Delat / What is to be done?, Lilibeth Cuenca, Olafur Eliasson, Michael Elmgren & Ingar Dragset, Köken Ergun, Jakup Ferri, Flucht Kunst, FOS, Dora García, Jens Haaning, Mona Hatoum, Romuald Hazoumé, Husk Mit Navn, Hannah Höch, Jesper Just, Oliver Kochta-Kalleinen and Tellervo Kalleinen, Daniel Knorr, Joachim Koester, Július Koller, Irina Korina, John Kørner, Ann Lislegaard, Mads Lynnerup, Ján Mančuška, Jette Hye Jin Mortensen, Aydan Murtezaoglu, Wangechi Mutu, Deimantas Narkevičius, Ioana Nemes, Melik Ohanian, Hélio Oiticia, Paulina Olowska, Roman Ondak, Parfyme, Pavel Pepperstein, Dan Perjovschi, Tanja Nellemann Poulsen, Walid Raad, Rimini Protokoll, Kirstine Roepstorff, Pia Rönicke / Zeynel Abidin Kızılyaprak, Xabier Salaberria, Tomás Saraceno, Zineb Sedir a, Roman Signer, Nedko Solakov, Hito Steyerl, Mladen Stilinović, Tove Storck, Daniel Svarre, Danh Vo, Roi Vaara

The first international quadrennial for contemporary art in Denmark.
A U-TURN for contemporary art

The focal point of the quadrennial is the notion of the U-TURN as a movement and a radical change of direction. Art stands in a dynamic relation to changes in contemporary culture, and it is in itself an expression of cultural processes. With U-TURN sights can be set in new directions – offering a new outlook for the audience and new insights into critical cultural self-awareness.

The main exhibition in the Carlsberg Brewery area between Vesterbro and Valby will be hosted in a 4,000 m2 bottling hall. Together with Nikolaj Copenhagen Contemporary Art Centre, this constitutes an exhibition area of over 5,000 m2. In close collaboration with Nikolaj Copenhagen Contemporary Art Center, there will be a solo exhibition by the Danish artist Jesper Just at this venue. Among other works, he will present the premiere of a new work which has been produced in collaboration with U-TURN is specially made for Nikolaj CCAC.

More than 10 new works and installations will also be exhibited in public spaces around Copenhagen. These will include Olafur Eliasson exhibiting at the City Hall Square, Dan Perjovschi drawing on Sønder Boulevard and the artist group Parfyme developing an alternative harbour plan for Copenhagen Harbour.

In addition to the exhibitions of the quadrennial, U-TURN is initiating an ambitious international collaboration, Opening Hours, a collaboration that will involve an exchange of events with four institutions abroad: berlin biennale (Germany), IDEA art + society (Cluj-Napoca, Romania), Mücsarnok / Kunsthalle Budapest (Hungary) and Lunds Konsthall (Sweden).