Aquatopia
The Imaginary of the Ocean Deep
12 Oct 2013 - 26 Jan 2014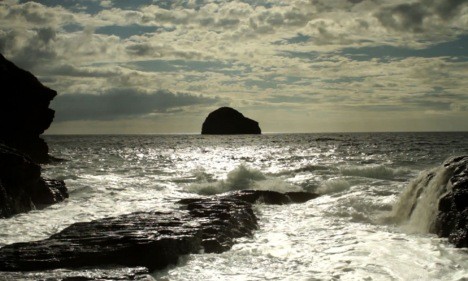 © The Otolith Group
Hydra Decapita 2010
HD video, colour, sound, 31 minutes 41 seconds
Courtesy of The Otolith Group and supplied by LUX
This major exhibition brings together over 150 contemporary and historic artworks that explore how the deep has been imagined by artists, writers and poets through time and across cultures. Its briny depths are populated with ancient sea monsters and futuristic dolphin embassies, beautiful sirens and paramilitary gill-men, sperm whales and water babies, shipwrecks and submersibles, giant squid and lecherous octopuses.

Developed in collaboration with Nottingham Contemporary, the exhibition has been curated by Alex Farquharson, Director of Nottingham Contemporary, and reconfigured for St Ives with Martin Clark, former Artistic Director of Tate St Ives.

Ninety percent of the Earth's oceans remain unexplored. Science knows more about outer space than the ocean deep. Scores of 'new' species, weirder than any fiction, are found each time a submersible descends to the ocean's deepest trenches.

In the absence of knowledge the deep is a site where the imagination has full rein. The ocean has always bred monsters, and like outer space has been a setting for science fiction since Jules Verne's 20,000 Leagues Under the Sea. But unlike outer space, the oceans are part of our own planet – and by extension a part of us too.

Throughout recorded history the deep has been the site of shared myths, subconscious fears and unnamed desires. Aquatopia, then, is less about the ocean as it actually is and more about how it lives within us. But our wild imaginings about the ocean aren't simply escapist. The ocean is the keeper of political histories that continually resurface in the present day. Ocean myths both ancient and modern have been shaped by conquest and colonialism, and more recently by the tide of gender politics.
Featuring important and iconic paintings, drawings and sculptures by artists including J.M.W. Turner, Marcel Broodthaers, Oskar Kokoschka, Barbara Hepworth, Odilon Redon, Lucian Freud and Hokusai, amongst others, Aquatopia also includes video, performance, sculpture and painting by more recent figures in contemporary art, such as Mark Dion, Spartacus Chetwynd, Steve Claydon, Juergen Teller, The Otolith Group, Mikhail Karakis and Wangechi Mutu. Occupying all of the spectacular galleries at Tate St Ives, the exhibition is presented at the very edge of the ocean, overlooking Porthmeor beach and the restless Atlantic beyond.