Philippe Parreno
Anywhen
04 Oct 2016 - 02 Apr 2017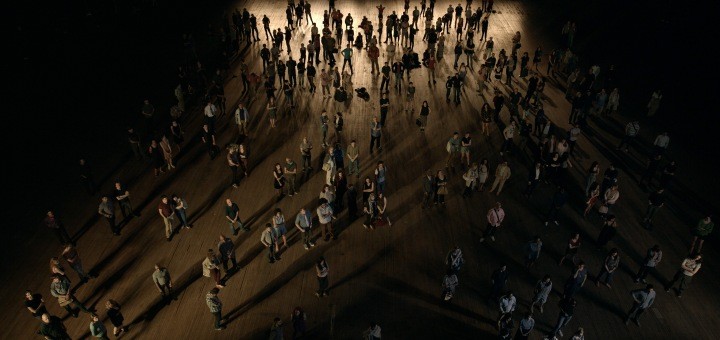 Philippe Parreno
The Crowd 2015
film still
© Philippe Parreno. Courtesy Pilar Corrias, Barbara Gladstone, Esther Schipper
Hyundai Commission 2016

Tate Modern today unveils a new commission by French artist Philippe Parreno. Entitled Anywhen, the commission transforms the Turbine Hall into an experience that plays with time and space, guiding the public through constantly changing stages of light, sound and moving elements. This is the second annual Hyundai Commission, a series of site-specific works created for the Turbine Hall by renowned international artists, as part of the partnership between Tate and Hyundai Motor.

Anywhen presents itself as an instrument which performs a series of functions and constructs a series of situations. The hall's lights are controlled and activated according to different sequences. An additional moving light casts shadows throughout the hall and a large central 'marquee' – a canopy covered in lights – is suspended over the Level 1 bridge. A changing soundscape is broadcast from various sources, blurring the sense of inside and outside, public and private, natural and technological. Vertical and horizontal acoustic panels, a screen, a grid of speakers and a projector come together in different configurations, and from time to time they present a film featuring a stage ventriloquist and underwater creatures.

Following the opening of the new Tate Modern this summer, Anywhen is the first commission to respond to the Turbine Hall's new position at the centre of the museum, an open space connected to the city itself and free for the public to enter from many different levels and directions. As if on a walk through an urban park, visitors to Anywhen encounter events, movements and images that appear and disappear over time.

Anywhen is conceived in dialogue with other visual artists and practitioners. A moving light entitled Another Day With Another Sun, incorporated into the commission, is a work made in collaboration between Liam Gillick and Philippe Parreno. Tino Seghal and Isabel Lewis worked with Parreno on the dramaturgy. The sound has been designed by Nicolas Becker with Cengiz Hartlap, while actress, comedian and ventriloquist Nina Conti features in the film. During the six months from October 2016 to April 2017, the sequence of events will continue to evolve into a pattern, informed by micro-organisms that will learn to react to and activate elements of the commission through a bio reactor designed by Jean-Baptiste Boulé and Nicolas Desprat. Some other collaborators may also contribute to the evolving nature of the commission.

A key artist of his generation, Philippe Parreno's works have often explored the borders between reality and fiction, the experience of time and the ritual form of the exhibition. Parreno lives and works in Paris, and is represented in several major museum collections, including Tate; MoMA, New York; and the Centre Pompidou, Paris. He has participated in multiple Venice Biennales since the early 1990s and in recent years has exhibited at HangarBicocca, Milan (2015); Park Avenue Armory, New York (2015); Palais de Tokyo, Paris (2013); The Garage Centre for Contemporary Culture, Moscow (2013); The Serpentine Gallery, London (2010); and the Centre Pompidou, Paris (2009).

The Hyundai Commission 2016 is curated by Andrea Lissoni, Senior Curator, International Art (Film), Tate Modern with Vassilis Oikonomopoulos, Assistant Curator, Tate Modern. It is held in partnership with Hyundai Motor, with support from Kvadrat, LUMA Foundation and the Philippe Parreno Supporters Circle.