Jane & Louise Wilson / Fikret Atay
20 Oct 2006 - 21 Jan 2007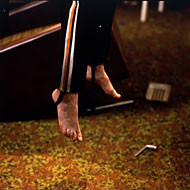 Jane and Louise Wilson
Stasi City (still), 1997
Four-channel color video installation with sound; 29:00 min. loop
Collection Pamela and Richard Kramlich, San Francisco
© 2006 Jane and Louise Wilson
Charged Space:
Jane and Louise Wilson/Fikret Atay
October 20, 2006 - January 21, 2007

Charged Space features two video installations that allude to the loaded histories of specific sites. Both works confront the political subtexts of otherwise banal locations. Stasi City (1997) by Jane and Louise Wilson journeys through the abandoned headquarters of the East German secret police — the Staatssicherheit — a few years after the reunification of Germany. The once fenced-off "city" has become a haunting relic of the architecture of surveillance and control. Fikret Atay's Tinica (2004) is set against the backdrop Atay's hometown, Batman, a Kurdish city rife with political turmoil near the border between Turkey and Iraq. Overlooking the city's modern housing projects from a hilltop, a teenage boy performs a dynamic drum solo on empty cans.