Luisa Kasalick
18 Sep - 23 Oct 2010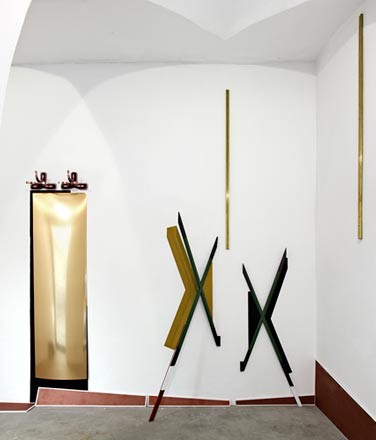 © Luisa Kasalick
exclusive, 2010
wood, copper enamel, spirit varnish, rust proof paint, plaster on styrofoam, gold brushed polystyrene,
tempera on roofing felt, brass, plastic, cardboard, PVCC
variable dimensions
LUISA KASALICKY
"exclusive"

Introduction: 6.30 p.m.
Karin Pernegger, Curator
at Kunsthalle Krems
Franz Wojda, Collection Franz and Sigrid Wojda

Duration of exhibition:
18 SEP – 23 OCT 2010

Everyday observations, memories of events and encounters, and films are the basis for Luisa Kasalicky's sculptural works. They remind us of human shapes, pieces of furniture, and other everyday objects whose surrealism makes them unfit for use but enriched with a language of their own.

Luisa Kasalicky gathers material fragments from everyday life and assembles them into wall pieces, objects, and installations. The everyday ready-made materials she employs, such as Styrofoam, linoleum, carpet, insulating panels, tiles, and decorative cloth, are "not interesting for the market because they are no longer modern – they aren't in demand now because of their color or structure". (Luisa Kasalicky)

Urban space and its elements as well as painting are analyzed in her work. The technique of collage and assemblage serves as a means of formally engaging with modernism while she also employs a painterly way of thinking that takes up issues inherent to painting. Her installations are born out of painting, and over the years, she has developed different color systems. Within the open structure of her work, she spatially organizes materials according to color and texture like brushstrokes. Individual areas are painted and added on to prefabricated surfaces of color. The results are new constellations of modular spatial sketches. The decisive element of her work is that, instead of staying on the level of questioning, Luisa Kasalicky creates alternative worlds. She captures human elements and transforms them into complex spatial and material systems out of which autonomous objects and narrative mise-en-scènes emerge whose stories unfold through their materiality.

The simultaneity of opposition is a unifying theme in her body of work. "There are elements that always accompany me. Maybe I can better explain this by telling a fairy tale that I liked as a child. A prince wants to get married, so he sends out his men. But he wants a special woman. This woman should be wearing clothes and not wearing clothes; she should arrive riding and not riding. Then they find a fisherman's daughter. She's riding a donkey with one leg straddling its back while walking with the other. She's wearing only a fishing net, so she's both clothed and not clothed. She unites opposites that appear irreconcilable. She represents an extremely wide range of possibilities. In a way, that's what I'm trying to achieve. My work should always have a certainty and urgency, but it should also inspire a well-oiled chain of associations that take on a different form for each person." (Interview with Luisa Kasalicky by Rita Vitorelli in Spike Art Quarterly 21 (2009))



Luisa Kasalicky was born in Prague in 1974. She studied painting and graphic arts at the Akademie der bildenden Künste (Academy of Fine Arts) in Vienna, where she currently lives. She is a winner of the Theodor Körner Award.
Selected Exhibitions: 2006 Erzählungen -35/65+ / Narratives -35/65+, Kunsthaus Graz; Immer an der Wand lang ist totsicher, Swingr – raumaufzeit, Vienna; 2007 SOUFFLÉ, eine Massenausstellung, Kunstraum Innsbruck; Dan Devening projects and editions, Chicago; 2008 In Between, Austria Contemporary, Genia Schreiber University Art Gallery, Tel Aviv; Delay Tactics of Second Rate Quality, Austrian Cultural Forum, London; 2009 Ferner als Gelacht, Kunstraum Flat 1, Vienna; Twilight Zone, Kunstraum Niederösterreich, Vienna; 2010 in passing 12; Künstlerhauspassage, Vienna; Lebt und arbeitet in Wien III. Stars in a Plastic Bag, Kunsthalle Wien; Zirkuswelten, Rupertinum Salzburg. 2011 A solo exhibition of Luisa Kasalicky's work will be shown at the Bawag Contemporary, Vienna.