Maya Lin
24 Sep - 13 Nov 2009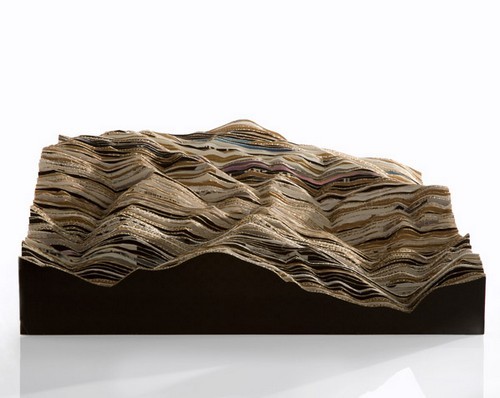 © Maya Lin
Mac World, 2009
cardboard and adhesive
box dimensions: 27" x 22" x 8 1⁄2" landscape dimensions: 27" x 22" x 7"
MAYA LIN
"Recycled Landscapes"

September 24 - November 13, 2009

Salon 94 is proud to present Maya Lin: Recycled Landscapes, an exhibition of small-scale sculpture made from discarded children's toys and salvaged materials. On view from September 24 through November 13, this body of work continues Lin's investigation into our connection to the environment, but here on a smaller, domestic scale.
The exhibition is built around eight spherical objects that bring to mind a constellation of small planets or geological formations. Lin refers to them as asteroids, and presents them in a range of scales and materials. Two of the asteroids are made from recycled tempered glass that has been shattered into small bits and reconstituted into sparkling, multi-faceted globes. They are accompanied by orbs made entirely out of brightly colored plastic toys and discarded plastic materials.
One asteroid consists of balls, another of bottle caps, while two others are built out of the empty plastic vending capsules from local gumball machines. Two of the largest asteroids are made respectively of boys' toys and girls' toys — loved, consumed, worn out, thrown away – and seem the most culturally laden of the objects, and also the most poignant.
In a departure for Lin who is renowned for using functional, unexpressive (or "mute") materials that mimic the colors and forms found in nature, these sculptures are comprised of boisterous everyday objects whose use-value is ritualistic, emotional, consumerist. By categorizing and re-arranging them into larger sculptural accretions, Lin opens them up to critique, while simultaneously re-investing these forms with new cultural meaning.
In addition to the asteroids, Lin will present three atlas landscapes, used books that have been painstakingly carved layer by layer into crater-like geological formations. The re-creation of these cartographic tomes into discrete landscapes that are perhaps real, perhaps imagined mimic nature's ongoing cycles of creation and destruction and highlight Lin's interest in finding the boundaries where the real and the ideal, nature and culture intersect. Alongside these atlases will be several carved phonebooks that resemble 3-D renderings of topographical maps; a series of freestanding cardboard landscapes that recall mountain ranges despite the corporate logos that adorn the packaging; and a seafoam green recycled glass sculpture, Wavefield, reminiscent of Lin's new environmental sculpture at the Storm King Art Center.

Maya Lin: Three Ways of Looking at the Earth, an exhibition of three large-scale works, will be on view at PaceWildenstein, 545 West 22nd Street, New York from September 10 – October 24, 2009.

A committed environmentalist, Lin is working on her last memorial, entitled What is Missing?, which will raise awareness of the current crisis surrounding biodiversity and habitat loss. 10% of all profits from sales of Maya Lin: Recycled Landscapes will be donated to What is Missing?.

Maya Lin (b. 1959, Athens, Ohio) is renowned for her art, architecture and memorials. She graduated cum laude from Yale University with a Bachelor of Arts degree in 1981 and went on to earn her Master of Architecture degree from Yale in 1986. She has maintained a professional studio in New York City since then.