Steven Claydon
14 Sep - 19 Oct 2013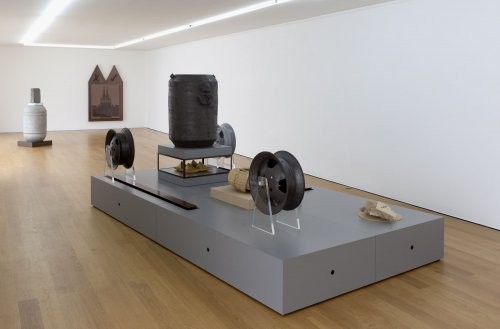 © Steven Claydon
The passage of differentiated substance (bartmann), 2012
Ceramic, wicker, Formica, acrylic, powder coated steel, copper, poyurethane foam, hessian, string, peacock feathers, gum rubber, wood, brass
178 x 200 x 400 cm
unique
STEVEN CLAYDON
14 September - 19 October 2013

Compulsive Communicators

The oeuvre of British artist Steven Claydon spans sculpture, installation, video, performance art and painting. A central theme of his work is the challenging or reappraisal of dominant thought patterns, canons and taxonomies. What is it that makes a mere "thing" a work of art, and what influential role does history play in it all? Claydon questions these relationships with playful precision, working with a diversity of materials and within a broad aesthetic spectrum. Artefacts are juxtaposed with everyday objects, replicas with originals. The form of presentation, which is always part and parcel of the work, evokes the exhibiting traditions of Natural History museums and prehistoric collections, inevitably triggering questions about how collections and archives are structured, and how art is curated in general. Claydon's works often relate to the genius loci of the exhibition venue. Frequently, they embrace the theories and concepts of people who in, their thoughts and actions, offer viable alternatives to normative ideologies and power structures. Thus it is that The Passage of differentiated substance of 2012, created for his solo exhibition at firstsite in Colchester/UK, is graced by the face of Alfred Russel Wallace, whose own under-celebrated contribution to the theory of evolution prompted Charles Darwin to publish his book On the Origin of the Species in 1859. Formed as a relief, Wallace's face looms eerily out of the side of a large barrel, which seems to have been cast in iron, but on closer scrutiny turns out to be made of ceramic, its shape at once reminiscent of a modern steel barrel and an ancient Roman burial urn.
Mounted on a Formica pedestal, it stands high in the midst of an assemblage of two rail-like girders and three motorbike wheel rims made of ceramic and a forth wheel cut from a wicker effigy of a Harley Davidson motorbike. Lying at the end of one rail is a enlarged one cent coin. Claydon's aim is not to illustrate or quote from ancient history but rather to create works that confront the viewer with a sense of the inevitable arbitrariness of all historical "knowledge". He builds up associations, creating a "climate" that defies all attempts at linear interpretation or a finite reading.

Steven Claydon (*1969) lives and works in London. His international solo exhibitions include the following: Culpable Earth, firstsite, Colchester, UK (2012); Mon Plaisir...Votre Travail, La Salle de Bains, Lyon, France (2011); Goldene Zeiten/Golden Times, Haus der Kunst, Munich (2010); The Ancient Set and the Fictional Pixel, Serpentine Pavilion, London, The Ancient Set, International Project Space, Bournville, Birmingham (2008) and Courtesy of the Neighborhood Watch, White Columns, New York (2006). Claydon's solo exhibition Culpable Earth at firstsite in 2012 was accompanied by a publication with the same title.