Objects of Value
21 Nov 2008 - 22 Feb 2009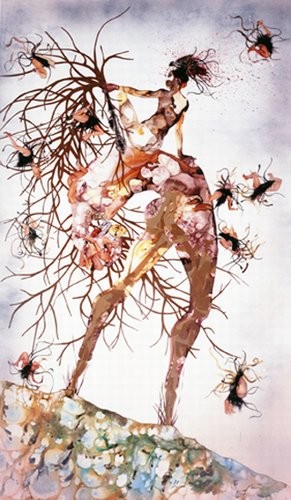 © Wangechi Mutu
You tried so hard to make us away, 2005
Ink, acrylic, glitter, fur, contact paper and collage on Mylar
88 x 51-1/4 inches
Collection Miami Art Museum, acquired with funds from MAM Collectors Council
OBJECTS OF VALUE

Plaza Level Gallery
November 21, 2008 - February 22, 2009

How is economic value defined and determined? Does it correspond to an object's intrinsic qualities or is it purely a social construction? Fundamentally, what do we say about our culture and our society - about our selves - through the objects that we have chosen to value? This exhibition centers on the rich cultural history of traditionally valuable materials such as silver, diamonds, gold, etc., as well as the nearly visceral desires that these substances are capable of evoking. The exhibition also focuses on the important immaterial factors that underlie the determination of value: from a given object's emotional or religious significance to aspects of its life on the market, as well as the crucial if silent role played by human labor and the human body.
Objects of Value features works by such artists as Janine Antoni, Walead Beshty, Chris Burden, Dario Escobar, Felix Gonzalez-Torres, David Lefkowitz, Jac Leirner, Josiah McElheny, Marilyn Minter, Vik Muniz, Wangechi Mutu, Wilfredo Prieto, Santiago Sierra, Simon Starling, Rirkrit Tiravanija, Tunga and Carey Young. The exhibition combines works from the MAM collection with works on loan from various sources throughout North America and Europe.
Objects of Value is organized by Miami Art Museum and curated by Associate Curator Rene Morales. It is supported by MAM's Annual Exhibitions Fund.