The François Pinault Collection, a Post-Pop Selection
11 Nov 2006 - 11 Mar 2007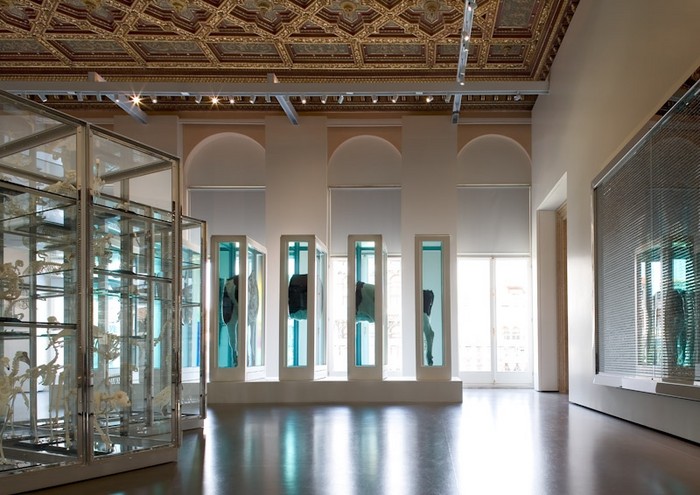 © Damien Hirst
Where Are We Going ? Where Do We Come From ? Is There a Reason ?, (2000-2004)
ph Santi Caleca
THE FRANÇOIS PINAULT COLLECTION, A POST-POP SELECTION
November 11, 2006 - March 11, 2007

The 18 contemporary artists presented are each in their different way a dynamic renewal of the Pop Art current. Through the myths of our consumer and mass communications society, these artists explore our individual, historic and geographic identity.

The myth of the American way of life is stripped with irony and violence by the American artists. We rediscover the consumer icons of Jeff Koons, the technical and spatial innovations of Charles Ray, the troubling sexual questionings of Paul McCarthy and the disconcerting, subtle racial and social reflections of David Hammons.
Hollywood culture lies at the heart of the acrylic work of Ed Ruscha, artist symbol of Los Angeles. Similarly, it impregnates the violence of the texts and drawings of Raymond Pettibon. Through an ensemble of 22 "word" pictures, Christopher Wool, offers a sensorial, fascinating and provocative experience.

The exhibition presents three of the most important protagonists of the generation of the Young British Artists. Anchored in the banality of everyday life, the work of Sara Lucas breaks the sexual and macho taboos of our society with humour. As aggressive and non-conformist, the Chapman brothers provide a parallel, grotesque vision of our sexuality and the frantic chaos of war.
The "display case" works of Damien Hirst, finally, offer a chilling reflection on our fetishistic consumer habits, in which the artificial and the human are blended.

The disproportionate silicon and steel sculptures of German artist Thomas Schutte explore the conflictual relationship between the individual and his architectural and urban environment. Likewise, Inochi, the appealing, clumsy hero of Takashi Murakami, plunges us into a brutal, solitary adolescence.

The exhibition, finally, presents two emblematic works by the Polish artist, Piotr Uklanski, and the Italian artist, Maurizio Cattelan, references of a devastating candour to dark pages in our history.
These two works perfectly summarise a selection which uses tragedy and humour to force us to question our visual and cultural heritage.