Prima Materia
30 May 2013 - 15 Feb 2015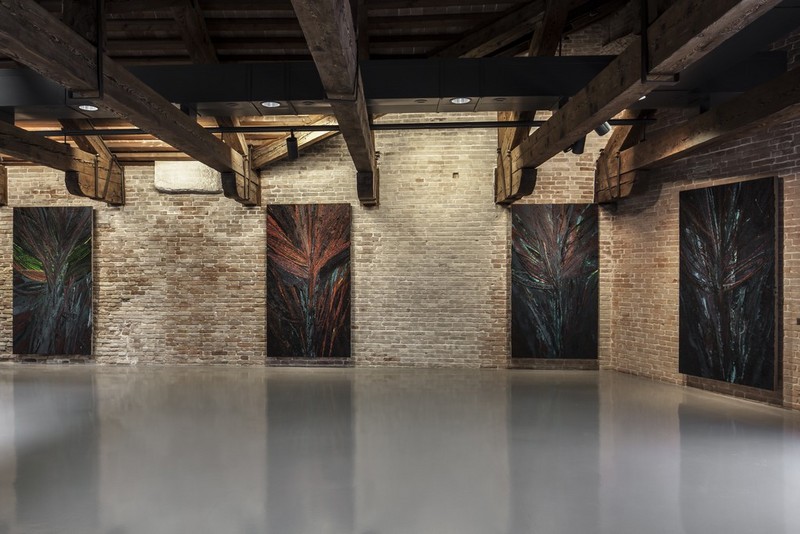 Mark Grotjahn
Installation view at Punta della Dogana.
Photo: © Palazzo Grassi, ORCH orsenigo_chemollo
PRIMA MATERIA
Curators of the exhibition: Caroline Bourgeois and Michael Govan
30 May 2013 - 15 February 2015

Ubiquitous and graphic media images of war, protest, and social upheaval provided the backdrop for artistic breakthroughs of late 1960s, much of which was expressed in abstraction— sometimes emptiness. That era also opened new vistas on social equality and shared concerns, such as the condition and future of our environment. Today, science and technology offer social connectivity on a global scale, constantly available images of every kind, and the promise of technological solutions for longevity, and renewable energy. At the same time, we still live in an atmosphere of anxiety, often faced with invisible and abstract adversaries— among them, global warming and technological terrorism. We are immersed in a cacophony of media image and sound.

If the goal of most of nineteenth century art was truth through beauty and balance, the art of the late twentieth and our own century tends toward a coexistence of extremes—of abstraction and surrealism, emptiness and chaos, negation and spectacle, high and low. Artistically, we live in an age of global pluralism. Four basic elements of painting, sculpture, installation, and performance are all alchemized by the prima materia of media, not only the substance of film or video or the Internet, but the means by which it is disseminated and discussed globally.

Medieval texts on alchemy suggest hundreds of diverse descriptions and definitions of the prima materia, the prime matter—separate from, or encompassing, earth, air, fire, and water; or the formless base of all matter; containing the soul and the body, the sun and the moon; love and light, imagination and consciousness; or urine, blood, or dirt. It was searched for in the darkest soil of the forest, and inside the body. It is the primal chaos that exists before time and all possibilities of the future. Western and Eastern, it is the Tao of Lao Tzu's Tao te Ching; or, in science, perhaps the dark matter that makes up most of our universe. The definitions of this medium that carries all of the elements are diverse by cultural perspective or personal identity. Sometimes circularly represented as a serpent eating its tail, the prima materia—essence, everything and nothing, everywhere and nowhere—takes many forms.