Victor Man
21 Mar - 22 Jun 2014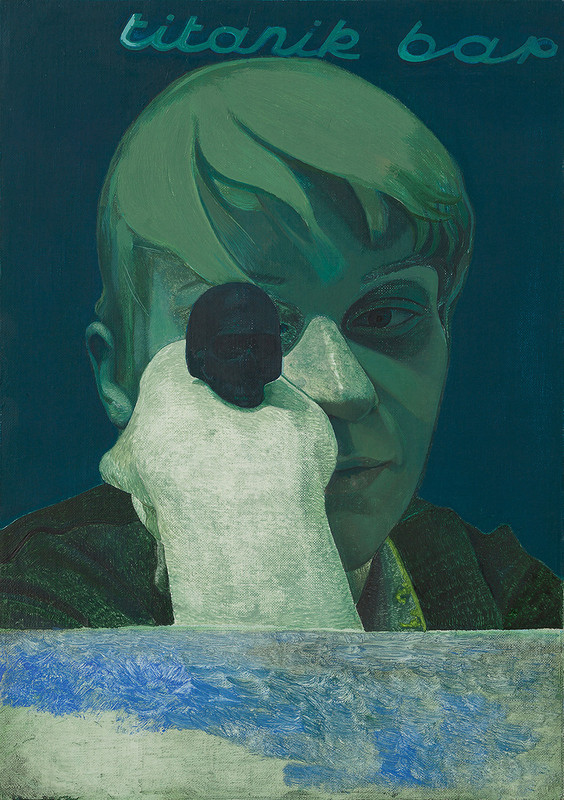 © Victor Man
Untitled, 2012
Oil on canvas, mounted on wood
Photo: Mathias Schormann
Courtesy of the artist

VICTOR MAN
Zephir
"Artist of the Year" 2014
21 March - 22 June 2014

Victor Man is the "Artist of the Year" 2014. By giving the award to the Romanian painter, Deutsche Bank is honoring an outstanding contemporary artist. The paintings of the artist, who was born in Cluj in 1974, resist quick reception. They're dark, generally in small formats, almost intimate. You have to walk up close to them and linger there for a long time in order to truly grasp them. His painting technique is so multilayered, in the true sense of the word, that it can scarcely be penetrated by the eye or by the intellect. His works interweave collective and biographical memories, myths, and references to philosophy and art history. In this way, Victor Man creates a painterly cosmos in which strange metamorphoses take place under the veil of darkness, as it were. In Man's work, animate and inanimate, human and animal, male and female, are in constant exchange and, as in an alchemistic process, undergo a fusion. The paintings keep their secrets and are at once timeless and visionary.

Under the title "Zephir," the Deutsche Bank KunstHalle is presenting Man's first institutional solo exhibition. In addition to providing a survey of his work, the exhibition includes new paintings never presented before and a sculptural glass work created expressly for the show. In the glass work, the artist adeptly transfers the multilayeredness of his painting into three dimensions. The interplay between light, color, and space gives rise to a glass image that radiates into the space, that is at once a window and a projection.

Artist of the Year

After Wangechi Mutu (2010), Yto Barrada (2011), Roman Ondák (2012), and Imran Qureshi (2013), Victor Man is the fifth "Artist of the Year" of Deutsche Bank. The award is given on the recommendation of the Deutsche Bank Global Art Advisory Council, which consists of the renowned curators Okwui Enwezor, Hou Hanru, Udo Kittelmann, and Victoria Noorthoorn. The focus is on artists who have already amassed a substantial oeuvre and have blazed new trails both formally and in terms of content. The highlight of the program is a solo show in the Deutsche Bank KunstHalle, accompanied by an extensive catalogue and an exclusive edition.