Jim Dine
11 Feb - 12 Mar 2011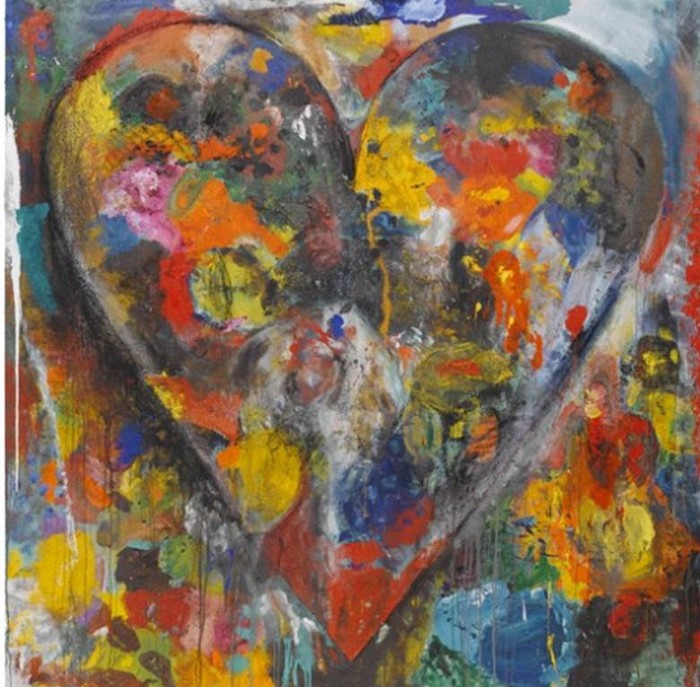 © Jim Dine
Abyss of The Good Soldier (for Harry W.), 2010
acrylic, charcoal and sand on linen
9'-1/8" x 9'-3/8" (274.6 cm x 275.3 cm)
JIM DINE
11 February - 12 March, 2011

The Pace Gallery is pleased to present Paintings, Jim Dine an exhibition of ten new large-scale paintings from 2010, including a triptych measuring approximately 5' x 12' overall installed. The show will be on view at 32 East 57th Street, New York City, from February 11 through March 12, 2011. A catalogue with an essay by critic and poet Vincent Katz will accompany the exhibition. A public reception for the artist will be held on Thursday, February 10 from 6 to 8 p.m.

In Paintings, Jim Dine the artist's iconic heart becomes a canvas for new experiments with process and the material qualities of paint. Dine, traditionally an oil painter, builds the new paintings with layers of acrylic paint, pushing the medium's inherent flatness and quick drying time to its limits by sanding, power grinding, and using an air compressor to "correct" through abrasion or removal. Dine's palette—a large Plexiglas sheet on which he mixes his paint (and a motif to which he has returned throughout his career as a symbol of the connection to the artist's tool)—is the source for his new imagery. "I saw this palette just leaning there," the artist recalled after returning to his studio in Walla Walla after a winter away; "I thought, I could paint about that, it could make ideas ... You could cut this up 25 times and blow up those cut-up elements, and you'd have another complete show of what paint can do, of what association of form can do." While retaining the passion inherent in the heart, an image that he has returned to for more than forty years, the form itself becomes submerged in gestural abstractions of vivid colors, as though reiterating painting itself as the primary subject of the works. "The loss of image clarity, the sense of losing focus," Katz explains in the catalogue essay, "has given ever-greater clarity to the component parts of the image."

Paintings, Jim Dine coincides with Jim Dine, the artist's first major retrospective devoted to sculpture at the Frederik Meijer Gardens & Sculpture Park in Grand Rapids, Michigan (on view through May 8, 2011). It will subsequently travel to the Kennedy Museum of Art in Athens, Ohio as Jim Dine: Sculpture and Large Prints (July 8–November 27, 2011). A catalogue raisonné of Jim Dine's sculpture is forthcoming from Artifex Press. The Morgan Library and Museum will mount an exhibition of Dine's Glyptotek Drawings from May 20 through September 4, 2011, which the artist donated to the museum in 2009. The group of forty drawings was inspired by the Greek and Roman sculptures at the Glyptothek Museum in Munich, where Dine first visited in 1984 and returned for many years, drawing and meditating on the antiquities. This April, The Nagoya/Boston Museum of Fine Arts, Japan, established in 1999 to encourage cross-cultural exchange between the United States and Japan, will present a solo exhibition of Dine's prints from the museum's collection (April 23–August 28, 2011).

Jim Dine (b. 1935, Cincinnati, Ohio) studied at the University of Cincinnati and the Boston Museum School, and received his B.F.A. from Ohio University, Athens, where he was also enrolled in the graduate program. Dine moved to New York City in 1958, where he had his first group (1959) and solo (1960) exhibitions. He instantly became an active figure in the New York art world, creating and staging many of the first "Happenings" along with artists Claes Oldenburg and Robert Whitman. Since his first solo exhibition in 1960, Dine's paintings, sculptures, photography, and prints have been the subject of nearly 300 solo exhibitions worldwide.

In 2008, Dine became the first contemporary artist invited to exhibit at the J. Paul Getty Museum, Getty Villa in Malibu, California with Jim Dine: Poet Singing (The Flowering Sheets), an installation of sculpture and poetry inspired by ancient objects in the museum's collection. Dine has been the subject of nine major surveys and retrospectives since 1970, including Jim Dine, some drawings, organized by the Allen Memorial Art Museum (2005–2007); Drawings of Jim Dine, a major traveling retrospective organized by the National Gallery of Art, Washington, D.C. (2004); Jim Dine: Walking Memory 1959–1969, the Solomon R. Guggenheim Museum, NY (1999), which traveled to the Cincinnati Art Museum; Jim Dine, Isetan Museum, Tokyo, which travelled to the Museum of Art, Osaka and the Hakone Open Air Museum, Japan (1990–91); Jim Dine: Five Themes, the Walker Art Center, Minneapolis, (1984–85), which traveled to the Phoenix Art Museum, The Saint Louis Art Museum, the Akron Art Museum, OH, The Albright-Knox Art Gallery, Buffalo, NY, and The Hirshhorn Museum and Sculpture Garden, Washington, D.C.; and Jim Dine, Whitney Museum of American Art, NY (1970).

Throughout his career Dine has received multiple awards and honors including, most recently, the inaugural Cincinnati Art Award from the Cincinnati Museum of Art (2010); the inaugural Legacy in Lithography Award from the Tamarind Institute, College of Fine Arts, University of New Mexico (2010); the School of the Museum of Fine Arts, Boston, 10th Annual Medal Award (2005); the prestigious Commandeur dans l'Ordre des Arts et des Lettres, Paris (2003); and the Library Lions Award, New York Public Library (2003). In 1998 he was elected to the Akademie der Kunste, Berlin, and in 1997 he received an honorary doctorate from the California College of Arts and Crafts. Other important awards include a special commendation by the Friends of the Bezalel Museum (1996); the Pyramid Atlantic Award of Distinction, Washington, DC (1992); and election to the American Academy of and Institute of Arts and Letters, New York (1980).

Dine's work is held in more than 70 important public collections worldwide, including the Albright-Knox Art Gallery, Buffalo; The Art Institute of Chicago; The Cleveland Museum of Art; Hakone Open-Air Museum, Hakone-machi, Japan; Hirshhorn Museum and Sculpture Garden, Smithsonian Institution, Washington, D.C.; The Israel Museum, Jerusalem; The Metropolitan Museum of Art, New York; Moderna Museet, Stockholm; Musée national d'art moderne, Centre Pompidou, Paris; Museum of Fine Arts, Boston; The Museum of Modern Art, New York; National Gallery of Art, Washington, D.C.; San Francisco Museum of Modern Art; Solomon R. Guggenheim Museum, New York; Stedelijk Museum; Amsterdam; Tate Gallery; London; Walker Art Center, Minneapolis; and Whitney Museum of American Art, New York.