Jim Dine
04 May - 09 Jun 2007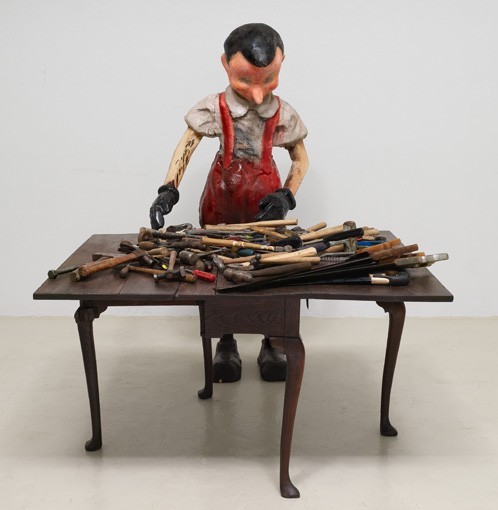 © JIM DINE
The Philosopher, 2006
enamel on wood with wood table and tools
64" x 51" x 67" (162.6 cm x 129.5 cm x 170.2 cm), overall installed64" x 32" x 21" (162.6 cm x 81.3 cm x 53.3 cm), figure30" x 51" x 46" (76.2 cm x 129.5 cm x 116.8 cm), table
JIM DINE
"Pinocchio"

NEW YORK, April 9, 2007—PaceWildenstein is pleased to present a new series of works by Jim Dine on view from May 5 through June 9, 2007 at 534 West 25th Street in New York City. Jim Dine: Pinocchio will feature 17 enamel on wood, charred wood, stained wood, and cast aluminum Pinocchio sculptures, as well as one work on paper. A full color catalogue with photographs by the artist and Diana Michener and an essay by Michael Thomas Davis, an Adjunct Assistant Professor at Westminster Choir College of Rider University and Special Editorial Assistant at Princeton Theological Seminary Dead Sea Scrolls Project within the Princeton Theological Seminary, will accompany the exhibition. The artist will be present at a public reception held on Friday, May 4th from 6-8 p.m.

Jim Dine: Pinocchio also coincides with a newly released book published by Steidl (2006) which includes original text by Carlo Collodi and images by Jim Dine. The original lithographs, used to illustrate the book, were exhibited at The New York Public Library in Winter 2006-2007 and remain there as part of the institution's permanent collection. Dine was also commissioned this year by the town of Boras, Sweden to create a thirty-foot sculpture of Pinocchio in patinated cast bronze with acrylic paint.

The story of Pinocchio written by Carlo Collodi, an author and journalist, first appeared in 1881 as a serial in an Italian newspaper. The Adventures of Pinocchio: Story of a Puppet became a book in 1883 and the celebrated Walt Disney film version premiered in 1941. Since he was six years old and saw the Disney adaptation, Dine has been fascinated with the subject.

A little more than twenty years later the artist bought a figurine of the puppet and he has continually explored the subject in the decades since through photographs, drawing, sculpture, and painting. Jim Dine: Pinocchio is a culmination of this investigation. The new work represents Dine's most physical exploration of the subject and perhaps his most radical treatment of material in a series. One sculpture, The Crying Sand, was sandblasted, leaving it raw and exposed. The grains of the wood, cracks, and inherent imperfections are emphasized. The sandblasting exposed where joints have been glued together, allowing the viewer to see how Pinocchio was carved and how his body fits together. In another work, Two Boys Looking, black walnut wood has been repeatedly rubbed with turpentine and linseed oil. In Two Thieves, One Liar, the only sculpture to precisely illustrate a passage from Collodi's text, Dine chose to carbonize with a blowtorch, instead of paint, the Fox and the Cat, the characters who famously cheat Pinocchio out of the gold coins meant for Geppetto.

Through his various examinations of the subject, Dine discovered that the relationships derived from Pinocchio's story expressed his fascination with the relationship between creator and material; far from being a simple children's tale the story of Pinocchio holds the potential for greater psychological drama.

Jim Dine (b. 1935) was born in Cincinnati, Ohio, and studied at the University of Cincinnati and the Boston Museum School prior to receiving his B.F.A. from Ohio University, Athens, where he later enrolled in their graduate program. He moved to New York City in 1958, where he had his first group (1958) and solo (1960) exhibitions. Dine instantly became an active figure in the New York art world where he created and staged many of the first "Happenings," along with artists Allan Kaprow, Lucas Samaras, Red Grooms, Robert Whitman, and Claes Oldenburg. Since his first solo exhibition in 1960, Dine's paintings, sculptures, photography, and prints have been the subject of over 220 solo exhibitions worldwide, including 29 solo exhibitions with the gallery since he began his association in 1976.

In 2006 Jim Dine, Some Drawings, ended a long tour across the United States at Pepperdine University in Malibu, CA. The exhibition consisted of nearly 80 works on paper that highlighted Dine's talent at combining painterly techniques into his drawing. The show also traveled to the Allen Memorial Art Museum, Oberlin College, Ohio; the Neuberger Museum of Art, Purchase College, State University of New York; and the Mary and Leigh Block Museum of Art, Northwestern University, Chicago. This exhibition was the most recent major show of Jim Dine's work following five major surveys and retrospectives Dine has been the subject of since 1970, including The Drawings of Jim Dine, a major traveling retrospective organized by the National Gallery of Art, Washington, D.C. (2004); Jim Dine: Walking Memory 1959-1969, the Solomon R. Guggenheim Museum, NY (1999), which traveled to the Cincinnati Art Museum; Jim Dine, Isetan Museum, Tokyo, and Museum of Art, Osaka (1990-91); Jim Dine: Five Themes, the Walker Art Center, Minneapolis, (1984-85), which traveled to the Phoenix Art Museum, The Saint Louis Art Museum, the Akron Art Museum, OH, The Albright-Knox Art Gallery, Buffalo, NY, and The Hirshhorn Museum and Sculpture Garden, Washington, D.C.; and Jim Dine, Whitney Museum of American Art, NY (1970).

Dine has been the recipient of multiple awards and honors, including the School of the Museum of Fine Arts, Boston, 10th Annual Medal Award; the prestigious Commandeur dans l'Ordre des Arts et des Lettres, Paris (2003), the Library Lions Award, New York Public Library (2003), an invitation by the Mayor of Siena, Italy, to design the banner for the city's traditional Palio celebration (2000), election to the Akademie der Kunste, Berlin (1998), an honorary doctorate from the California College of Arts and Crafts (1997), special commendation by the Friends of the Bezalel Museum (1996), the Pyramid Atlantic Award of Distinction, Washington, DC (1992), and election to the American Academy of and Institute of Arts and Letters, New York (1980).

Dine's work is in numerous public collections worldwide including the Albright-Knox Art Gallery, Buffalo; The Art Institute of Chicago; The Cleveland Museum of Art; Hakone Open-Air Museum, Hakone-machi, Japan; Hirshhorn Museum and Sculpture Garden, Smithsonian Institution, Washington, D.C.; The Israel Museum, Jerusalem; The Metropolitan Museum of Art, NY; Moderna Museet, Stockholm; Musée national d'art moderne, Centre Pompidou, Paris; Museum of Fine Arts, Boston; The Museum of Modern Art, NY; National Gallery of Art, Washington, D.C.; San Francisco Museum of Modern Art; Solomon R. Guggenheim Museum, NY; Stedelijk Museum; Amsterdam; Tate Gallery; London; Walker Art Center, Minneapolis; and Whitney Museum of American Art, NY.