50 Years at Pace
17 Sep - 23 Oct 2010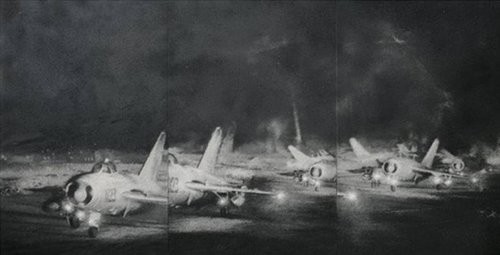 Zhang Huan
Airplanes, 2008
ash on linen
three panels, each: 8' 2-3/8" x 5' 3" (250 x 160 cm); overall: 8' 2-3/8" x 15' 9" (250 x 480 cm)
Private collection
© Zhang Huan Studio, courtesy The Pace Gallery. Photo courtesy Zhang Huan Studio and The Pace Gallery
50 YEARS AT PACE: Minimalism / Phenomenological and Conceptual Art / Post-Modern and Post-Minimal Art
Sep 17, 2010 - Oct 23, 2010
n celebration of its 50th anniversary, The Pace Gallery presents a multi-venue retrospective of the gallery's history highlighting the many artists, exhibitions, people, literature and ideals that have influenced its narrative over the past five decades. 50 Years at Pace will bring together some of the key masterpieces that have passed through Pace's doors, featuring loans from important public and private collections worldwide. With works spanning more than a century and a selection of rare archival materials, 50 Years at Pace will shed light on some of the landmark exhibitions and sales from the gallery's extensive history. 50 Years at Pace will be on view at 32 East 57th Street, 534 West 25th Street, and 545 West 22nd Street from September 17th through October 23rd. The exhibition will also be on view at The Pace Gallery's new location at 510 West 25th Street through October 16th. Opening receptions will be hosted in each gallery from 5:30-9 p.m. on Thursday, September 16, 2010.
Each gallery will explore a different aspect of Pace's history: mini-reprises of groundbreaking thematic and historical exhibitions will be on view at 57th Street; the gallery's enduring relationship with Pop art and Abstract Expressionism will be highlighted at 25th Street; contributions to Minimalist Art and the Post-Modernist movement will be featured at 22nd Street; and Pace's commitment to contemporary art in the 21st century will be showcased at the gallery's new location on 510 West 25th Street.
A catalogue with a foreword by Arne Glimcher and more than 250 full color illustrations will accompany the exhibition. In addition, an iPhone application designed to complement 50 Years at Pace, featuring audio clips of artists and art historians and a walking tour of public works in Manhattan, will be available to download from the iTunes store free of charge.
The Pace Gallery extends its deepest gratitude to the numerous private collectors and public institutions who have made this exhibition possible, including Albright-Knox Art Gallery, Buffalo; The Adolph and Esther Gottlieb Foundation; Brooklyn Museum; Centre Georges Pompidou; Estate of Mark Rothko; Fondation Beyeler; Guggenheim Museum; The Josef and Anni Albers Foundation, Meadows Museum, Dallas; Museum of Fine Arts, Boston; Museum of Modern Art, New York; Nasher Sculpture Center, Dallas; National Gallery of Art, Washington, D.C.; San Francisco Museum of Modern Art; Tate, London; Whitney Museum of American Art; and Wildenstein & Co.
Pace's 32 East 57th Street location will feature focused recreations of some of the gallery's most significant historical shows, including Pablo Picasso: The Avignon Paintings, 1981, one of the first exhibitions devoted to the master's late works, The Sculpture of Picasso, 1982, and Coenties Slip: Robert Indiana, Ellsworth Kelly, Agnes Martin, James Rosenquist, Jack Youngerman, 1993. Exhibitions that illuminated the relationships between artistic sensibilities, such as De Kooning/Dubuffet: The Women, 1991, Bonnard/Rothko: Color and Light, 1997; and Mondrian/Reinhardt: Influence and Affinity, 1997, will be represented with rarely seen works on loan from a number of public and private collections. Other highlights include Giacometti's "The Women of Venice," reunited in New York five years after The Women of Giacometti, 2005, and Pablo Picasso's Portrait of a Woman,1910 (Museum of Fine Arts, Boston), a work integral to the groundbreaking exhibition Picasso, Braque and Early Film in Cubism, 2007 (made into the documentary Picasso and Braque Go to the Movies, produced by Martin Scorsese in 2010). Rare archival materials, such as letters and telegrams between artists, vintage gallery announcements, and historical installation photography will help bring the gallery's rich history to life.
The 534 West 25th Street location will focus on The Pace Gallery's enduring relationship with Pop art and Abstract Expressionism, including representative works from seminal exhibitions such as Stock up for the Holidays: A Survey of Pop Art, 1962, First International Girlie Exhibit, 1965, and Beyond Realism, 1965. Highlighted works include Robert Rauschenberg's Erased de Kooning Drawing, 1953 (SFMoMA); Andy Warhol's Marilyn Diptych, 1962 (Tate Modern); Ad Reinhardt's Abstract Painting, 1960-66 (Guggenheim); Roy Lichtenstein's Girl With Ball, 1961 (MoMA, New York); Clyfford Still's Untitled, 1956 (Whitney); and sculptures from the late 50s to early 70s by Jean Dubuffet, John Chamberlain, David Smith, Louise Nevelson, and Claes Oldenburg, including Oldenburg's Giant BLT (Bacon, Lettuce and Tomato Sandwich), 1963 (Whitney). Jasper Johns' Three Flags, 1958, which revolutionized the contemporary art market when it broke the record for the highest amount ever paid for the work of a living artist (the Whitney Museum of American Art acquired the work through Pace for $1 million in 1980), will also be on view.
The 22nd Street gallery will be a celebration of the Minimalist Art and the post-Modernist movements, featuring works by Chamberlain, Flavin, Hockney, Irwin, Judd, LeWitt, Mangold, Marden, Murray, Riley, Ryman, Samaras, Schnabel, Shapiro, Turrell, and Tuttle, among others. Texts and archival material from previous exhibitions related to these themes, such as the seminal 1979 exhibition Grids, will also be included. Lucas Samaras' Mirrored Room, 1966, last seen in New York City in the artist's 1973 Whitney retrospective, will be reconstructed at 22nd Street, on loan from the Albright-Knox Art Gallery. During the month of August, a team of Sol LeWitt's draftsmen will install Wall Drawing #741, previously on view (for the first and last time) in LeWitt's 1994 exhibition at Pace. Other important loans include Kiki Smith's Lilith, 1994 (Museum of Fine Arts, Boston); Chuck Close's Fanny/Fingerpainting, 1985 (National Gallery of Art, Washington, D.C.); and Richard Tuttle's Walking on Air, B-8, 2008 (MoMA, New York).
The inaugural exhibition at Pace's 510 West 25th Street location will explore the gallery's commitment to contemporary art today, highlighting artists as they articulate new ways of defining, navigating, and interpreting their world in the increasingly global context of the 21st century. Featured works include Chuck Close's Zhang Huan I, 2008; Fred Wilson's Iago's Mirror, 2009; Antoni Tàpies' Particules I Ones, 2007, created by the Catalan master in his early 80s; Robert Whitman's explorations of planetary light, movement, and space in his digital projection Ganymede, created from video footage obtained from NASA; Zhang Xiaogang's emotionally stirring Comrades, 2006, which grapples with the individual and collective memories of the Cultural Revolution; Hiroshi Sugimoto's Henry VIII, 1999, and his six wives; and Tim Hawkinson's Sherpa, 2008, a life-sized single cylinder two-stroke engine motorcycle constructed out of eight varieties of feathers. Important works by Tara Donovan, Rosalyn Drexler Tim Eitel, Tony Feher, Tim Hawkinson, Alex Katz, Maya Lin, Carsten Nicolai, Thomas Nozkowski, Fiona Rae, Michal Rovner, Sterling Ruby, Richard Serra, James Siena, Keith Sonnier, Keith Tyson, and Corban Walker, among others, will also be included.
Since its origins in Boston in 1960, The Pace Gallery has been a vital force in the art world and the locus through which many artists' work has reached the public. In five decades, the gallery has produced nearly 700 exhibitions and has published nearly 350 exhibition catalogues with contributions by some of the most renowned historians and critics of the 20th and 21st centuries. The gallery's dedication to historical and scholarly exhibitions is accompanied by a strong commitment to the art of the 21st century and beyond. Today, The Pace Gallery encompasses four locations in New York, as well as Pace Beijing, a 25,000 square foot gallery in the heart of Beijing's 798 Art District. The Pace family also includes Pace/MacGill, specializing in photography; Pace Prints & Pace Master Prints, focusing on limited edition works on paper from the 15th to 21st centuries; and Pace Primitive, dedicated to African, Himalayan, Oceanic, and Native American tribal art. To coincide with its 50th anniversary this year, Pace has launched
thepacegallery.com
, an encyclopedic search-based site culled from the gallery's extensive archives which allows visitors to peruse a living archive of 50 years (and counting) of The Pace Gallery.
Concurrent with 50 Years at Pace, Pace Prints and Pace Primitive will present the joint exhibition Louise Nevelson Prints and Multiples 1953-1983, featuring etchings, lithographs, cast paper pulp pieces, and lead intaglio pieces. Pace/MacGill will highlight a selection of the finest photographers and works that have exhibited in the gallery, including seminal photographs by Alfred Stieglitz, Paul Strand, Charles Sheeler, and Edward Weston. Opening receptions will be held on Thursday, September 16th from 5:30-9 p.m. to coincide with the opening of 50 Years at Pace.