CATALOGUE TEXT IN BETWEEN SILENCE BY CATERINA BEVEGNÙ, FONDAZIONE MARCH, 2009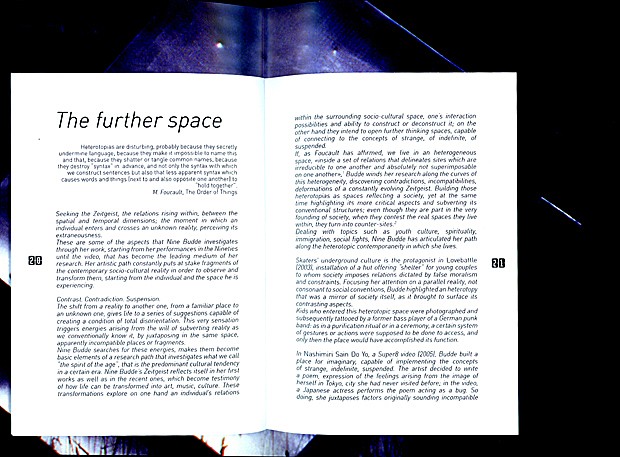 The further space by Caterina Benvegnù

Heterotopias are disturbing, probably because they secretly undermine language, because they make it impossible to name this and that, because they shatter or tangle common names, because they destroy "syntax" in advance, and not only the syntax with which we construct sentences but also that less apparent syntax which causes words and things (next to and also opposite one another) to "hold together".
M. Foucault, The Order of Things

Seeking the Zeitgeist, the relations rising within, between the spatial and temporal dimensions; the moment in which an individual enters and crosses an unknown reality, perceiving its extraneousness.
These are some of the aspects that Nine Budde investigates through her work, starting from her performances in the Nineties until the video, that has become the leading medium of her research. Her artistic path constantly puts at stake fragments of the contemporary socio-cultural reality in order to observe and transform them, starting from the individual and the space he is experiencing.
Contrast. Contradiction. Suspension.
The shift from a reality to another one, from a familiar place to an unknown one, gives life to a series of suggestions capable of creating a condition of total disorientation. This very sensation triggers energies arising from the will of subverting reality as we conventionally know it, by juxtaposing in the same space, apparently incompatible places or fragments.
Nine Budde searches for these energies, makes them become basic elements of a research path that investigates what we call "the spirit of the age", that is the predominant cultural tendency in a certain era. Nine Budde's Zeitgeist reflects itself in her first works as well as in the recent ones, which become testimony of how life can be transformed into art, music, culture. These transformations explore on one hand an individual's relations within the surrounding socio-cultural space, one's interaction possibilities and ability to construct or deconstruct it; on the other hand they intend to open further thinking spaces, capable of connecting to the concepts of strange, of indefinite, of suspended.
If, as Foucault has affirmed, we live in an heterogeneous space, «inside a set of relations that delineates sites which are irreducible to one another and absolutely not superimposable on one another», Budde winds her research along the curves of this heterogeneity, discovering contradictions, incompatibilities, deformations of a constantly evolving Zeitgeist. Building those heterotopias as spaces reflecting a society, yet at the same time highlighting its more critical aspects and subverting its conventional structures; even though they are part in the very founding of society, when they contest the real spaces they live within, they turn into counter-sites.
Dealing with topics such as youth culture, spirituality, immigration, social fights, Nine Budde has articulated her path along the heterotopic contemporaneity in which she lives.
Skaters' underground culture is the protagonist in Lovebattle (2003), installation of a hut offering "shelter" for young couples to whom society imposes relations dictated by false moralism and constraints. Focusing her attention on a parallel reality, not consonant to social conventions, Budde highlighted an heterotopy that was a mirror of society itself, as it brought to surface its contrasting aspects.
Kids who entered this heterotopic space were photographed and subsequently tattooed by a former bass player of a German punk band: as in a purification ritual or in a ceremony, a certain system of gestures or actions were supposed to be done to access, and only then the place would have accomplished its function.
In Nashimiri Sain Do Yo, a Super8 video (2005), Budde built a place for imaginary, capable of implementing the concepts of strange, indefinite, suspended. The artist decided to write a poem, expression of the feelings arising from the image of herself in Tokyo, city she had never visited before; in the video, a Japanese actress performs the poem acting as a bug. So doing, she juxtaposes factors originally sounding incompatible between them, until giving birth to another space, rich in authentic Japanese atmosphere even though created a priori by a completely extraneous artist. The black and white, the super8 technique, the soft interpretation of the poem, are all elements that suspend the atmosphere and make it rarefied. At the same time, narrative linearity is constantly destructured and subverted thanks to the presence of images and sound interruptions.
Social themes as immigration and woman condition are present in The Latitude of Loneliness (2006). The video focuses on four women, all immigrants and resident in Hamburg, portrayed while performing simple gestures inside their homes. The exigency to come into contact with these female figures sprang from the will to understand how they related to the place where they lived, as well as to the often coercive familiar relationships that condition them and restrict their freedom.
Nine Budde dialogues with the protagonists on the theme of insanity, and asks them to clean up the house, cook, wash and iron, yet adding completely unexpected and useless actions. Shooting moments of everyday life, directed to assure order, cleanliness and balance to their houses, together with unexpected and bizarre actions, gave birth to a contrast that emphasizes those contradictions and moralism typical of a certain society.
Relations between space and individuals, and between the disconnections that these relations often highlight, are again subject of another video. My LA video (2009) collects visual fragments of places, streets, rooms, belonging to the city of Los Angeles.
Glances on outdoor spaces alternate with views of domestic environments; the frenzy of the streets – underlined by a thundering sound – contrasts with the quietness of certain indoor spaces, of certain rooms, almost abandoned places accompanied by a softer and poetic sound. Space becomes a vehicle to recount relations and integrations that may happen between the space itself and the individuals who inhabit it. In addition, it is able to give life to other places which may become a tank for imagination and open up suggestions and new thinking spaces.
If the research of the "strange" and of the atypical as proper concepts of heteroropic space concentrates on the Zeitgeist investigation, Nine Budde's works become a sort of archive of the spirit of her age, collecting fragments of places, people, events, cultures. Nevertheless what is fundamental to underline, is that it is not a static archive, aimed to delineate a closed tendency or to catalogue systematically, but rather an heterotopic space itself, open to investigation and constantly moving, articulating among the contradictions of a changeable and metamorphic socio-cultural period.
In this way, Nine Budde's work also turns into a reflection on the concept of time, and on the possible structures it may or may not achieve. As photograms of a moving present, the artist's works refuses a definite temporal line, breaking off time perception as traditionally intended. The fragments that are subjects of her work stud the notion of punctiform and unhomogeneous history as Walter Benjamin defined it: characterized
by a present time which overburdens itself with meaning in the very moment it is experienced, it confers upon itself historical knowledge of the past, becoming together vehicle to refer to a future that will bear this experience in mind.
The projects thought for the residency at fondazione march utterly fit the artist's research path, becoming two further sections of this evolving archive.
Budde proposes two videos, independent of one another, yet at the same time in communication.
You and Me and Shall I ignore the youth? have been built upon the concepts of spirituality and education, upon the relation between two realities – once again – in opposition.
The first work rises from the need of comparing two women, and thus two realities and life styles that are poles apart: an exorcist woman, resident in Rome, and the artist herself.
The introversion, the distrust, the closeness of the religious world, taken to extremes by exorcism, sets itself against the need of extroversion and expression of an artist. Places and life fragments of both realities face each other, showing the evidences of a relationship full of contradictions. The video is a kind of journey constantly passing from one world to the other and stressing agelong issues – but at the same time extremely topical – as good and evil, free will, education and personal growth of an individual. Dark shootings of some ancient and sacred places in Rome, to cue the almost disturbing mystery that characterizes them, alternate with other brighter ones, pausing on the artist childhood places, symbolic references to that tension towards the discovery of the world so typical of her work.
The second video, projected beside, slowly goes through a series of shootings of ancient places in Padua, marble sculptures, frescoes, archaeological zones. The subtitles accompanying the images are fragments of interviews the artist carried out on some Paduan kids, concerning spirituality, their own personal growth, desires, reflections on conception of present, past and future.
In this dialogue between the two works, different subject realities are compared: the artists' one that opens up to the external world, seen through her familiar and cultural background; the religious one, darker and indefinite, expressed by an exorcist's thoughts; and finally the Paduan youth reality, which through the given answers seems to become the connecting element among the themes, referring both to the mystery of spirituality and the desire of external discovery, as well as to inner and personal growth.
Since the contrasts, the oppositions, but even the assonances of these worlds are highlighted, they become heterotopias one for the other, as well as fundamental and significant fragments for a full comprehension of the spirit of our contemporary age.