Video installation, Hi 8, Mixed Media, Fridericianum, Kassel, 2000

This piece is concerned with the role artists or cultural producers play and want to play within the present in society. I put my work into the position of being part of the service industry by creating return coupons, which I gave to people in my class. Those coupons were supposed to be filled out in naming personal videowishes, which I had to fulfill. The topics to be treated were described by catchwords, which lead to such offbeat titles as INTERRALATION BETWEEN CULTUR AND SOCCER , featuring myself as a service provider and an actress all the same time. I was performing all clips in the same flowered dress. The performances appeared in a very tongue-in-cheek way. For INTERRALATION BETWEEN CULTUR AND SOCCER f.g. I created a video where I played in memorial reference to Yves Klein a game of "action-soccer-painting". All together I produced seven short videos. The video-installation then represented the class situation (a simple table with chairs around) where, in addition to returned coupons, objects used in the videos, were layed on the tables, as well as the ordered videos themselves.
Video installation, Hi 8,Mixed Media, Starke Foundation, Berlin, 1998

I visited the Austrian Alps in 1998 where I staged and performed videos which topic was to nurse the pretty surrounding or as it is named in German "Heile Welt" - cure world - itself.
I poured Aspirin on flowers (they seemed to have a terrible headache, for all of their heads were hanging over the balcony), I motivated the Tyrolese flag to flatter by intense yodeling at it, after that I cured a flower's broken stalk with a bandage and finally I reanimated a dead stone by mouth-to-mouth breathing. The video installation there showed a hospital room in green neon lights where the videos were running as a loop on TV. Visitors were invited to lay down on the hospitals bed, have a bite of Sacher cake and feeling cured by the video therapy running on tv in front of them.
Collaboration with Natascha Rossi

Video installation, Hi 8, Mixed Media, 6 qm, Gallery Neu-Deli, Weimar, 1999

We sewed little dolls out of second hand clothes and massacred them afterwards. For showing their remains as well as the videomaterial documenting the violence we both performed on them, we then built a box-palace standing in a kids-pool surrounded by a half-barrel marble stones. In order to enter this little scenery, visitors had to walk through a fence. On the left side of the fence a LCD screen was installed, which showed the massacring videos of the dolls.
Collaboration with Natascha Rossi

Video installation, Mixed Media, Digital 8, Gallerie 21:24, Oslo, 2000

This was my second art cooperation piece with Natascha Rossi. It's a dialogue between two fat asses who are concerned about size and look presented as Kodak paper-animation. The first fat ass says "HI!" The otheranswers: "WHAT SHOULD WE DO?" And so the other: GIVE IT A SHOT! They explode. Our message: Go anarchistic not anorexic! The video installation of BOMBED was a dress-changing room just half-size of it regular proportions. On the outside on two little LCD screens dialogue mapped about was running.
Helping hand for the bombing was a real von Tresko. One of his relatives became famous in being part of the conspiracy against Hitler. Their bomb failed while ours succeeded.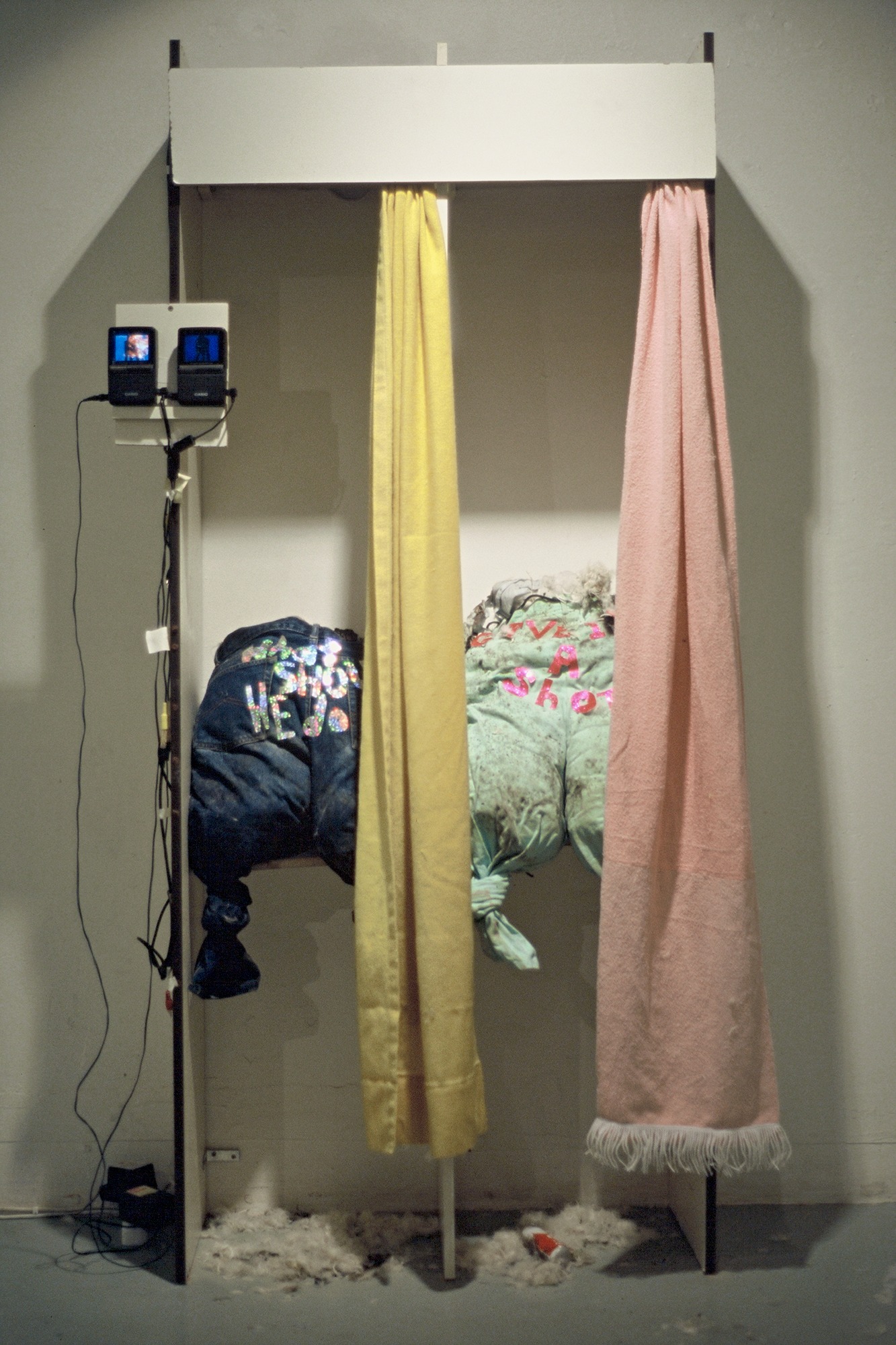 BOMBED (2000)
Collaboration with Natascha Rossi
Video installation, Mixed Media, Digital 8, Gallerie 21:24, Oslo, 2000