Going Out Of Circle - Part 3
Housing estates and the production of images of themselves
14 Jun - 17 Aug 2019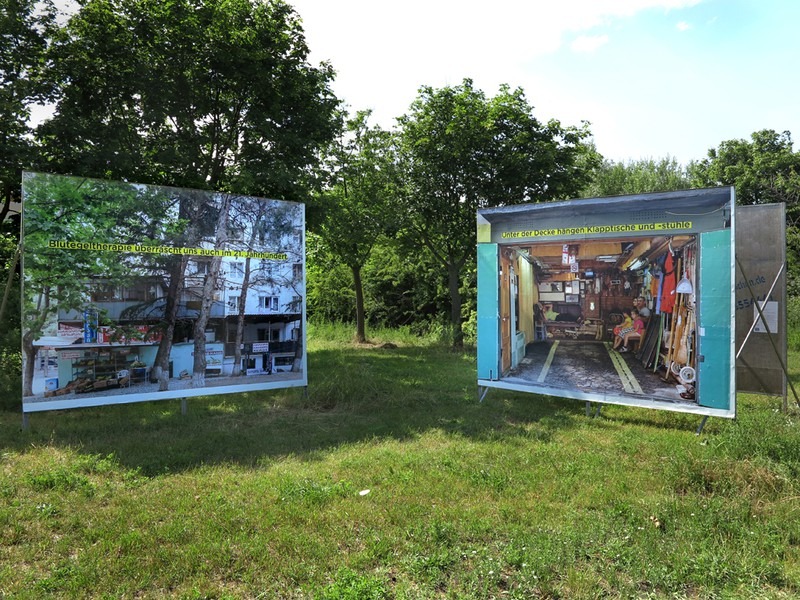 Exhibition view "GOING OUT OF CIRCLES 3", Place Internationale, 2019
Tinatin Gurgenidze & Christian Hanussek, from the series »Wir haben ja alles ...«, Gldani 2019
Author: Nihad Nino Pusija (Foto)
GOING OUT OF CIRCLES 3
Housing estates and the production of images of themselves
14 June – 17 August 2019

Artists
Tinatin Gurgenidze & Christian Hanussek, Stephen Willats

Participants
Tinatin Gurgenidze

Project group
Feben Amara, Jochen Becker, Fabian Bovens, Eva Hertzsch, Margarete Kiss, Constanze Musterer, Adam Page

Assistance
Christian Hanussek

GOING OUT OF CIRCLE - Part 3

Tiflis-Gldani / Berlin-Gropiusstadt

In the third part of the exhibition series, text and image collages will be shown on billboards at Place Internationale near the station urbaner kulturen. The artist Christian Hanussek and the architect Tinatin Gurgenidze deal with the large Gldani housing estate in Tbilisi while the artist Stephen Willats focuses on Berlin's Gropiusstadt estate.

Gurgenidze and Hanussek's series »Wir haben ja alles...« presents insights into life on the huge Gldani housing estate, home to about 30% of Tbilisi's 1 million inhabitants. The estate was built on open land on the northern edge of the city as part of the 1970 General Plan and was ambitiously designed as a self-functioning urban infrastructure. Since the end of the socialist era, residents have randomly filled spaces between the tower blocks with garages and added self-made extensions to the flats (notoriously termed »Kamikaze loggias«). This post-socialist transformation and, at times, brutal appropriation of the estate's original masterplan has enabled parallel microeconomies to flourish, ensuring many residents' financial survival as well as a revival of the public domain through social interaction.

Stephen Willats has been making artistic interventions into the social fabric of society since the early 1960s. He involves people in the creative process of making his work and seeks to define art as a social practice. His series »In Isolation leben« was created in 1979/80 on Berlin's Gropiusstadt housing estate in collaboration with the resident Klaus Müller, whose large apartment in a high-rise tower is a symbol of isolation in Willats' four images. The work focuses on the physical and psychological pressures to which individuals are exposed through isolation in society. It describes in words and images a diversity of personal spaces created within set structures and anonymous architectures, and how people create self-organized social and creative networks as part of their struggle for expressions of personal identity and a sense of community.