Unmonumental: The Object in the 21st Century
01 Dec 2007 - 23 Mar 2008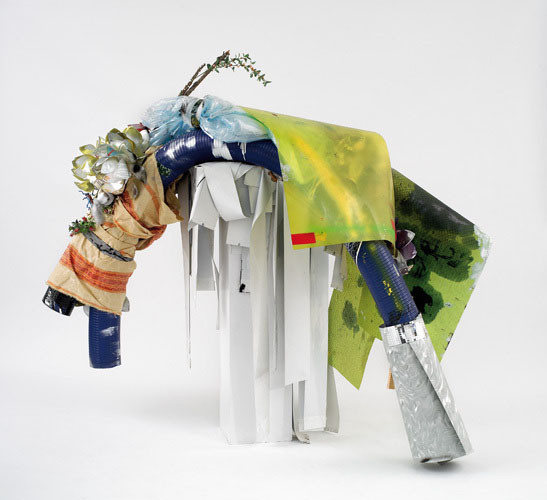 Isa Genzken, Elefant (detail), 2006
Wood, plastic tubes, plastic foils, vertical blinds, plastic toys, artificial flowers, fabric, bubble wrap, lacquer, and spray, 78 3/4 in x 86 1/2 in x 39 3/8 in, Collection Mari and Peter Shaw
Unmonumental: The Object in the 21st Century
1 Dec 2007 - 23 Mar 2008

"Unmonumental: The Object in the 21st Century" is the first exhibition in the "Unmonumental" cycle, and explores the reinvention of sculptural assemblage. Using found, fragmented, and discarded materials, the works of the artists on view make a case for modesty, informality, and improvisation.

The exhibition includes more than one hundred objects by thirty artists who represent a wide range of backgrounds and artistic strategies. Participating artists are:

Alexandra Bircken
John Bock
Carol Bove
Martin Boyce
Tobias Buche
Carlos Bunga
Tom Burr
Abraham Cruzvillegas
Aaron Curry
Sam Durant
Urs Fischer
Claire Fontaine
Isa Genzken
Rachel Harrison
Elliott Hundley
Gabriel Kuri
Jim Lambie
Nate Lowman
Sarah Lucas
Matthew Monahan
Kristen Morgin
Manfred Pernice
Anselm Reyle
Marc André Robinson
Eva Rothschild
Lara Schnitger
Gedi Sibony
Shinique Smith
Nobuko Tsuchiya
Rebecca Warren

"Unmonumental: The Object in the 21st Century" is organized by the New Museum's curatorial team of Richard Flood, Chief Curator; Laura Hoptman, Kraus Family Senior Curator; and Massimiliano Gioni, Director of Special Exhibitions

"Unmonumental: The Object in the 21st Century" is accompanied by a 264-page catalogue co-published by the New Museum and Phaidon. It includes essays by Richard Flood, Massimiliano Gioni, Laura Hoptman, and Trevor Smith, an independent curator, as well as illustrated sections on each of the thirty artists in the exhibition. The book also includes a chronology of unmonumental moments in the 21st century, organized by Benjamin Godsill, New Museum Curatorial Associate, and artists' biographies by Sara Reisman, Program Director at the International Studio and Curatorial Program. The volume also includes a glossary of sculptural terms by Eva Diaz, former Joanne Leonhard Cassullo Curatorial Fellow.