Collage: The Unmonumental Picture
16 Jan - 23 Mar 2008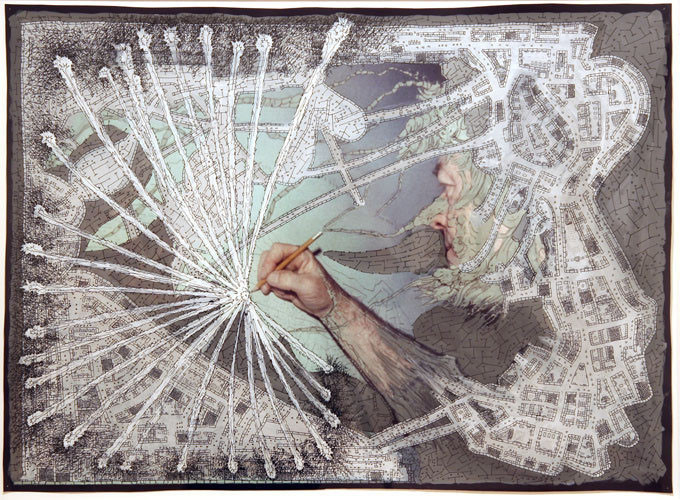 Kim Jones, Untitled, 1994-2004
Acrylic and ink on color photograph, 28 1/2 x 39 in
Courtesy Kim Jones and Pierogi, New York
Collage: The Unmonumental Picture
16 Jan - 23 Mar 2008

"Unmonumental" expands on January 16, 2008 with the opening of "Collage: The Unmonumental Picture." Recent collages by eleven artists, including works made expressly for the exhibition, will be installed on the gallery walls surrounding the sculptures already on view. Using varied strategies and materials, each of the artists in this portion of "Unmonumental" exploits the formal and ideological power of juxtaposing found images to create everything from social and political commentaries to Surrealist fantasies and personal confessions. Collage is a medium that by definition incorporates fragments and deals with opposing tensions, broken images, hidden desires, and collective myths. "The Unmonumental Picture" demonstrates the urgent relevance of collage practice in a contemporary world full of excessive imagery. Participating artists are:

Mark Bradford
Jonathan Hernández
Thomas Hirschhorn
Christian Holstad
Kim Jones
Wangechi Mutu
Henrik Olesen
Martha Rosler
Nancy Spero
John Stezaker
Kelley Walker

"Collage: The Unmonumental Picture" is organized by the New Museum's curatorial team of Richard Flood, Chief Curator; Laura Hoptman, Kraus Family Senior Curator; and Massimiliano Gioni, Director of Special Exhibitions.

"Collage: The Unmonumental Picture" will be accompanied by a 144-page catalogue co-published by the New Museum with Merrill Publishers/Mondadori Electa. It includes essays by Richard Flood, Laura Hoptman, and Massimiliano Gioni, as well as interviews with and writings by the artists.