Spiral Jetty
07 Aug - 07 Sep 2010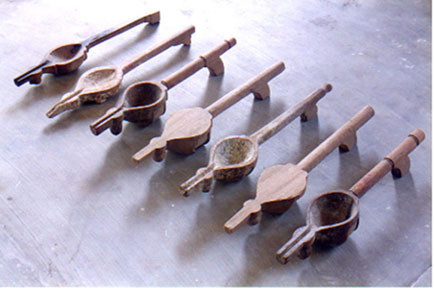 © Jeffrey Schiff
Vedic Instruments # 4, 1998
Fourteen color photographs, framed individually, edition 1/6.
Framed size: 12.5"x16.5" (32x42cms) each
SPIRAL JETTY
with works by Anita Dube, Abhishek Hazra, Pushpamala N., Josh P.S., Jeffrey Schiff, Mithu Sen and Seher Shah
August 7 - September 7, 2010
Opening on Saturday, August 7th from 6 to 8pm.
The exhibition will continue to September 7th.
"Spiral Jetty" refers to the famous earthwork by the American sculptor Robert Smithson (1938-1973). Constructed in 1970, the work consisted of hundreds of boulders arranged in the shallow waters of the Great Salt Lake in the western American state of Utah. The title also refers to the form of the spiral, that which turns inward, reflecting upon itself. The exhibition will address the subject of derivation in contemporary art. Usually used in a pejorative sense, "derivative" is, in fact, a condition of all human endeavor, as all aspects of culture and science build on what has come before. For the aware and progressive artist working today, derivation is a condition to be both acknowledged and confronted, certainly not denied or disregarded.
Much contemporary art today is both highly self-conscious of its antecedents and refers directly to its own patrimony or influences in its making. "Spiral Jetty" brings together the work of seven artists who work in a diverse array of mediums (including painting, sculpture, print-making, photography, video and installation). In all cases, the artists refer to pre-existing forms or images, recycling these into new creations. In some cases, the source materials that have been recycled are obvious, as in the paintings of Josh P.S., which re-create in an epic scale small sepia-toned photographs from the colonial era, and the prints of Seher Shah, which combine both found architectural photographs with her own reconfigured drawings. In other examples, the artists consciously evoke entire art movements or schools of thought in a more abstracted manner. Examples of this are the sculptures of Anita Dube and Jeffrey Schiff, both of which employ natural forms and materials so as to refer to the Italian trend known as Arte Povera but also to philosophical and linguistic systems. Other works, such as those by Abhishek Hazra and Mithu Sen, directly appropriate images from other works of art (from Yves Klein and Egon Schiele, respectively) to create entirely new works that comment on the relationship between these historical artists and our current context. In the "travelogue" photographs of Pushpamala N. the artist dons traditional costumes from other cultures for her portraits shot in photo-studios in cities around the world. By pairing her own travel experiences with the preconceived vestiges we come to expect from international travel, she comments on the continuing desire for "authenticity" in spite of an increasingly globalised mass-culture.
In all cases, the artists do not attempt to hide their sources and references, do not pretend that their works are entirely original. In fact, the derivation is very much part of the process of the work itself, acknowledging the self-conscious construction of culture building upon inherited cultures.
Nature Morte is open Monday through Saturday, from 10am to 6pm, and closed on Sundays. For more information and press photographs please contact Geeta Bajaj at (011) 4174-0215 or Rajeev Dhawan at (011) 2956-1596.
Please note: there are no art works by Robert Smithson included in the exhibition.
For information regarding Robert Smithson, contact:
smithsonestate@jamescohangallery.com