Pivot Points 3
25 Sep - 08 Nov 2009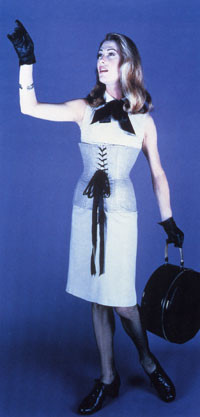 Photo: Catherine Opie, Julian Bond (detail), chromogenic print, 60 x 30 inches. Collection of Museum of Contemporary Art, North Miami. Museum purchase with funds from the MOCA POP 8 1⁄2 fundraiser
PIVOT POINTS 3

September 25 - November 8, 2009

Opening Reception
Friday, September 25 7-9PM

$10 General Admission
FREE for MOCA Members, City of North Miami Residents and Employees

ON VIEW SEPTEMBER 25 - November 8, 2009
MOCA, North Miami

Since 1995, the Museum of Contemporary Art, North Miami has been developing a collection of pivotal works by international contemporary artists. MOCA's focused approach to collecting concentrates on works connected by concepts and methodology, rather than chronology, style or medium. On view in the Pivot Points series of exhibitions are works from MOCA's permanent collection that mark important moments in the development of the artists' work and turning points in contemporary art. Each of these works contributed to the development of the museum's collection and is essential in establishing the direction for its continued growth. The exhibition is curated by MOCA Executive Director and Chief Curator Bonnie Clearwater.

Several of the works on view in Pivot Points 3 have been recently acquired by MOCA. Being shown at the first time at MOCA is Magdalena Abakanowicz's sculpture Head, (1974, Gift of Sirje and Michael Gold) which consists of a burlap sculpture in the shape of a head, suggesting violence and interrogation. It is the first burlap sculpture by this Polish artist and predates the artists' work Black Balls/Seated Balls III already in the museum's collection. Rita Ackerman's work Firecrotch,( 2008, Museum Purchase with funds from Pop 8 1⁄2 fundraiser) inspired by her young daughter's drawings, marks a shift in the artists' investigation into primitive topics and diverse materials.

Catherine Opie's chromogenic print, Justin Bond (1993, Museum purchase with funds from MOCA's POP 8 1⁄2 fundraiser) was first shown in MOCA's inaugural exhibition, Defining the Nineties in 1996, and is among the works that established the reputation of this photographer whose work was the subject of a recent retrospective at the Guggenheim Museum in New York.

Roni Horn's copper sculpture Pair Object Via, (1990, Promised gift of Estelle and Paul Berg), is part of the New York-based artist's first renowned series of paired objects that encourages the viewer to contemplate similarities and differences.

First seen at MOCA in the 2008 exhibition The Possibility of An Island, Cory Arcangel's Apple GarageBand Auto tune Demonstration, (2007, Museum purchase with funds from Pop Bollywood fundraiser) consists of a video projection of Jimi Hendrix's famous performance of the 'Star Spangled Banner' during the 1969 Woodstock concert. Arcangel alters the soundtrack by inputting it into the Apple computer software GarageBand's auto tune function which automatically corrects out of tune music. Apple markets the software as a means to achieve individuality through computer technology. Arcangel's application of this tool distorts and alters the audio track, actually robbing Hendrix's radical act of its iconic sound. Since that time, Arcangel has used the software in several video works.

The Paris-based collective Claire Fontaine's Please Come Back, (2007, Museum purchase with funds from MOCA's POP 8 1⁄2 fundraiser), which spells out the phrase in fluorescent tubing, is their first large-scale light sculpture. With an aura of nostalgia, the work beckons both artists and audience to return.

Hank Willis Thomas's work reflects on American media, consumerism and power, and equates how advertising targets specific groups. In three works on view from his Unbranded series, (Museum purchases with funds provided by Rosa and Carlos de la Cruz), he re-photographed advertisements and digitally removed the obvious branding. By removing the brand logos he proves the power of the image and the media.

Christian Holstad's work was introduced by MOCA in his first solo museum exhibitionTerms of Endearment in 2006. His House Training works (2006, Museum purchase with funds provided by the Braman Family Foundation, Rosa and Carlos de la Cruz and Lourdes and Tim Collett) life-size soft-sculptures of donkeys, inspired by the artists' childhood memories of nativity scenes, are fabricated from the recycled wool of men's suits and chicken wire. The donkeys, portrayed in various stages of decay portray the artist's belief that all creatures are locked in an eternal cycle of growth and dissolution. In addition to his sculptures, Pivot Points 3 also includes Empty Trust (2006, graphite on acid neutralized erased newsprint, Museum purchase with funds provided by the Braman Family Foundation, Rosa and Carlos de la Cruz, and Lourdes and Tim Collett), a suite of four works on paper.

Miami artist Karen Rifas is represented by an installation Inside Out (2008, Gift of Bernice Steinbaum), that marks a new direction in her work in which she uses string to define the volume of a void in space.

Among the other artists featured inPivot Points 3 are Uta Barth, Lothar Baumgarten, Dawoud Bey, COOPER, Gregory Crewdson, Tracey Emin, Anna Gaskell, Felix Gonzaelez-Torres, Adler Guerrier, Dan Flavin, Mark Handforth, Nancy Hayes, Zoe Leonard, Allan McCollum, Yoko Ono, and Richard Pettibone.