Open Systems
07 Jun - 08 Sep 2013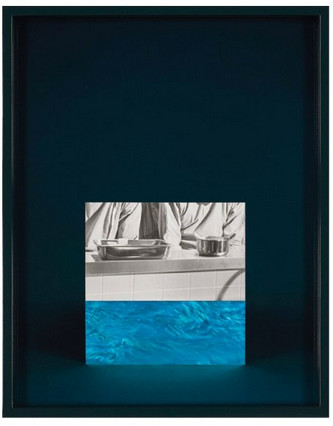 © Elad Lassry
Teal Swirl, 2010
Silver gelatin print on c-print with painted frame
14 1/2 x 11 1/2 x 1 1/2 inches
Museum purchase with funds from MOCA's Bohemian Bash
OPEN SYSTEMS: WORKS IN MOCA'S PERMANENT COLLECTION
7 June - 8 September 2013

Curated by Alex Gartenfeld

Francis Alys
Alex Hubbard
Alfredo Jaar
Paul Kos
Elad Lassry
Susan Lee-Chun
John Miller
Rivane Neuenschwander
Hank Willis Thomas

Coinciding with Dawoud Bey's exhibition "Picturing People," MOCA North Miami presents a selection of work from our collection. These works embody the irregular results of seemingly routine commands.

Collaboration is a key component to elaborating on the complexity of artistic interaction. With You Are Cordially Invited to Tea Time, 2008, Susan Lee-Chun creates a table with place settings for four. The work suggests an interactive display and a stage, and the various roles of sculptural objects. Continuously on view this spring, the site-specific installation by assume vivid astro focus (AVAF) uses immersive design and audio to implicate the visitor's body in its convivial architectural scheme.

Los Angeles-based Elad Lassry works with television actors and props alike, arranging them amidst candy-colored scenes to expose the way people and objects perform, even when they're off-duty. Creating the untitled painting installation from his "The Sign Painting Project," Francis Alys contracted professional Mexican billboard painters to replicate the artist's small-scale diptych. The result is a study in communication, skill, repetition and difference.

Works by Alex Hubbard and Paul Kos relate the sequencing of compositions or events to entropy, the loss of energy in a system. In his writing practice and in artworks across media, John Miller regularly alludes to waste materials in order to question the psychological impact of production lines. Alfredo Jaar's multi-part photographic work A Logo to America, 1987, combines text, maps and images to question the value and primacy of the American system, asking new questions about ways we approach reality.