Concrete Infinity
20 Sep 2014 - 15 Feb 2015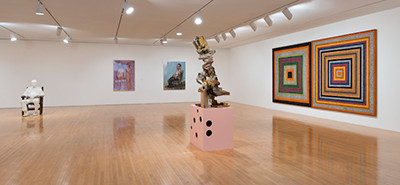 Installation view of Concrete Infinity at MOCA Grand Avenue, September 20, 2014 – February 15 , 2015, photo by Brian Forrest.
CONCRETE INFINITY
20 September 2014 - 15 February 2015

Concrete Infinity includes a selection of works from MOCA's Permanent Collection by John Altoon, Lynda Benglis, Robert Gober, Rachel Harrison, Richard Hawkins, Alfred Jensen, Andrew Lord, Catherine Opie, Adrian Piper, George Segal, and John Sonsini. Presented alongside Andy Warhol: Shadows, this small exhibition imagines the space revealed in Warhol's dark corners, emphasizing the pleasure and loss attached to representations of the human figure.