Unbound: Contemporary Art After Frida Kahlo
03 May - 05 Oct 2014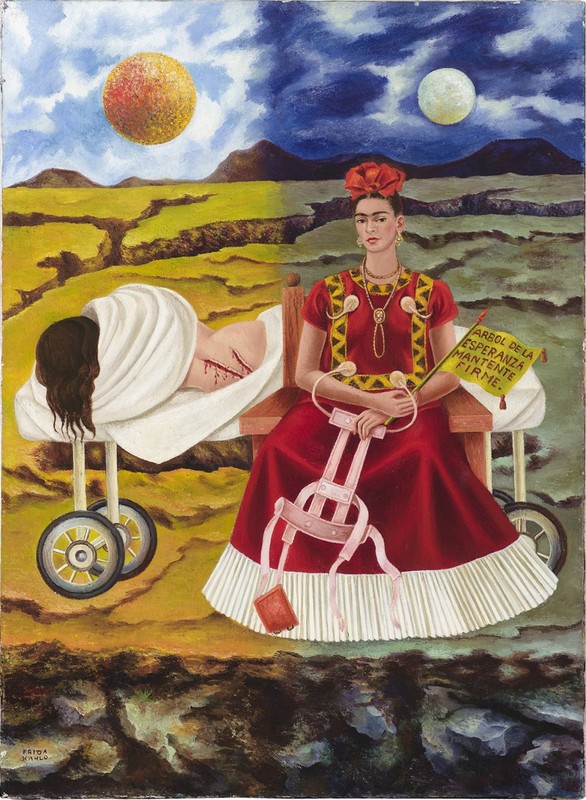 Frida Kahlo
Arbol de la Esperanza (Tree of Hope), 1946
Oil on masonite
22 x 16 in. (55.9 x 40.6 cm)
Private Collection, Chicago
© 2014 Banco de México Diego Rivera Frida Kahlo Museums Trust, Mexico, D.F. / Artists Rights Society (ARS), New York
Photo: Nathan Keay, © MCA Chicago
UNBOUND: CONTEMPORARY ART AFTER FRIDA KAHLO
3 May – 5 October 2014

Frida Kahlo is one of the most famous artists in the world. Her reputation and persona have grown immensely since her death in 1954, yet posthumously she has been turned into a stereotype of Latin American art. This predicament, along with her celebrity status, often overshadows the confrontational and boldly transgressive nature of her paintings, and ultimately undermines the revolutionary intent of her work. At the time it was made, Kahlo's unabashedly intimate portrayal of her physical and psychological experiences and her appropriation of Mexican folk art aesthetics challenged the bourgeois European mainstream. The scale and content of her work also stood in opposition to the monumental, nationalistic history painting being produced by her male Mexican contemporaries. Her work subverted accepted notions of gender, sexuality, social class, and ethnicity, and was prophetic in anticipating the broader cultural concerns—postcolonialism, feminism, civil rights, multiculturalism, and globalization—that reached a crescendo in the 1960s and continue to be relevant today.

In 1978, the Museum of Contemporary Art Chicago presented Kahlo's first solo museum exhibition in the United States. Using two of the works included in the original 1978 exhibition, Unbound: Contemporary Art After Frida Kahlo brings her work into a dialogue with contemporary art. The selected artists in this exhibition share Kahlo's spirit of rebellion and similarly assert themselves against the patriarchy as they insert their voices into dominant artistic discourses. This exhibition highlights four themes in Kahlo's paintings to examine their continued relevance to international artists: the performance of gender, issues of national identity, the political body, and the absent or traumatized body. The exhibition includes work by: Francis Alÿs and Enrique Huerta, Margot Bergman, Sanford Biggers, Louise Bourgeois, Martin Soto Climent, Eugenio Dittborn, Yang Fudong, Julio Galan, Nan Goldin, Thomas Houseago, Frida Kahlo, Nelson Leirner, José Leonilson, Ana Mendieta, Beatriz Milhazes, Donald Moffett, Celia Alvarez Muñoz, Wangechi Mutu, Shirin Neshat, Helio Oiticica, Catherine Opie, Gabriel Orozco, Angel Otero, Jack Pierson, Rosângela Rennó, Daniela Rossell, Doris Salcedo, Cindy Sherman, Lorna Simpson, and Valeska Soares.

Unbound: Contemporary Art After Frida Kahlo is organized by Curator Julie Rodrigues Widholm and Marjorie Susman Curatorial Fellow Abigail Winograd at the Museum of Contemporary Art Chicago.