Skyscraper: Art and Architecture Against Gravity
30 Jun - 23 Sep 2012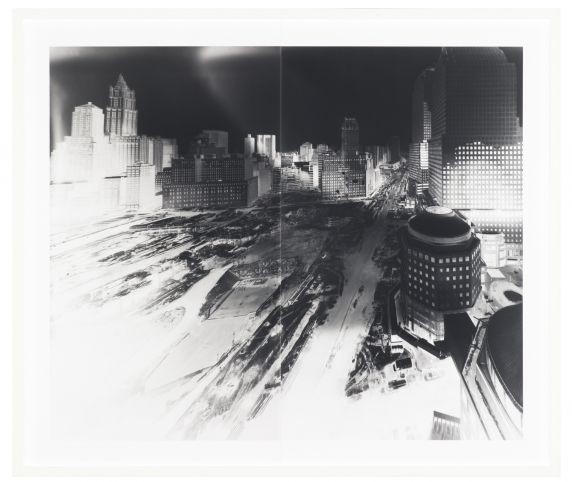 © Vera Lutter
Study for Ground Zero III, January 15 - 25, 2002, 2002
Collection Museum of Contemporary Art Chicago, gift of Francis Dittmer, 2009.11.c.
Photo: Nathan Keay, © MCA Chicago
SKYSCRAPER: ART AND ARCHITECTURE AGAINST GRAVITY
30 June - 23 September 2012

Skyscraper: Art and Architecture Against Gravity examines contemporary works of art that take as their subject the form, technology, myth, message, and image of that iconic building structure, the skyscraper. While the exhibition has particular relevance to Chicago, the city that is widely known as the birthplace of this architectural type, artists throughout the world—in addition to authors, filmmakers, poets, and undoubtedly architects—have been enthralled by the human desire to build farther and farther into the sky, testing technological limits while embodying a yearning for spiritual connection to the heavens. Artists' endeavors to explore this desire have taken many forms, from video and film to sculpture, painting, and photography.

Skyscraper brings together a wide-ranging group of artists from around the world and across the twentieth and twenty-first centuries to explore this enduring fascination. The exhibition features the work of Fikret Atay, Jennifer Bolande, Roger Brown, Jeff Carter, Roe Ethridge, Jonathan Horowitz, Bodys Isek Kingelez, Jakob Kolding, Vera Lutter, Abelardo Morell, Eliza Myrie, Ahmet ÖÄŸüt, Claes Oldenburg, Gabriel Orozco, Enoc Perez, Monika Sosnowska, Thomas Struth, Jan Tichy, Andy Warhol, Peter Wegner, H. C. Westermann, Wesley Willis, Catherine Yass, and Shizuka Yokomizo, among others.

This exhibition is curated by MCA James W. Alsdorf Chief Curator Michael Darling and cocurated by MCA Marjorie Susman Curatorial Fellow Joanna Szupinska. A fully illustrated catalogue accompanies the exhibition.