MCA Chicago Plaza Project: Amanda Ross-Ho
23 Jul 2013 - 12 Apr 2014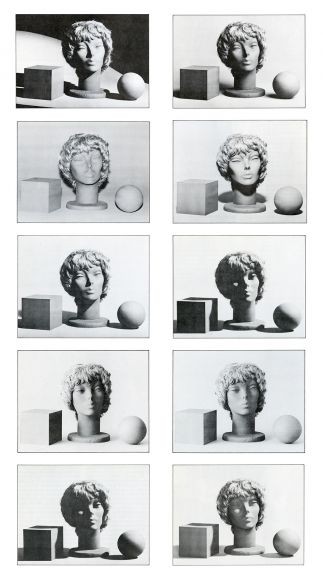 Source material for Amanda Ross-Ho's 2013 Plaza Project at the MCA Chicago: THE CHARACTER AND SHAPE OF ILLUMINATED THINGS
Courtesy and copyright David Brooks
MCA CHICAGO PLAZA PROJECT: AMANDA ROSS-HO
23 July - April 2014

Los Angeles–based artist Amanda Ross-Ho's first outdoor public art project, THE CHARACTER AND SHAPE OF ILLUMINATED THINGS, explores how photography is similar to the act of seeing. Updating Joseph Beuys's famous declaration "Everyone is an artist," Ross-Ho suggests more specifically that today everyone is a photographer, as the ubiquity and speed of digital photography shapes the way we view and experience the world.

The title of the exhibition is adapted from the 1980 photography handbook How to Control and Use Photographic Lighting, which demonstrates how different lighting drastically affects how details appear in an image. Illustrating this section of the manual is a still life of three objects: a cube, a sphere, and a mannequin's head. For her iteration of the MCA Chicago Plaza Project, Ross-Ho re-creates this trio at a monolithic scale with faithful allegiance to the original image. Completing the installation is a large-scale rendering of a color calibration card—the color grid that is used to maintain accuracy in the printing or post-production of color photography because it remains consistent in various lighting conditions. By including this card—which is usually discarded or cropped out of finished photographs—Ross Ho presents an image that is self-consciously "contaminated," as the color calibration card disrupts the composition. At the same time, its inclusion points to it as an artifact of a bygone era in which "accuracy" or "truth" in photography was a given.

Acknowledging how most public art is experienced through the lens of a camera, Ross-Ho deliberately treats her sculptures as photographic subjects and actively seeks to make viewers aware of their role as photographers. In Ross-Ho's hands, the plaza is transformed into an enormous photo studio, with objects on display for the purpose of being photographed by the public, while the sun provides a shifting source of light, affecting both our perception of how the objects look in real life and how they appear in our photographs. The artist hopes to collect and share images taken by viewers to consider the circulation and recycling of public information and how it affects the production of aesthetic objects.

THE CHARACTER AND SHAPE OF ILLUMINATED THINGS is the third iteration of the MCA Chicago Plaza Project, which has previously featured work by Mark Handforth (2011) and Martin Creed (2012).

This exhibition is organized by Julie Rodrigues Widholm, Pamela Alper Associate Curator at the Museum of Contemporary Art Chicago.