Martin Creed
01 Jan - 31 Dec 2012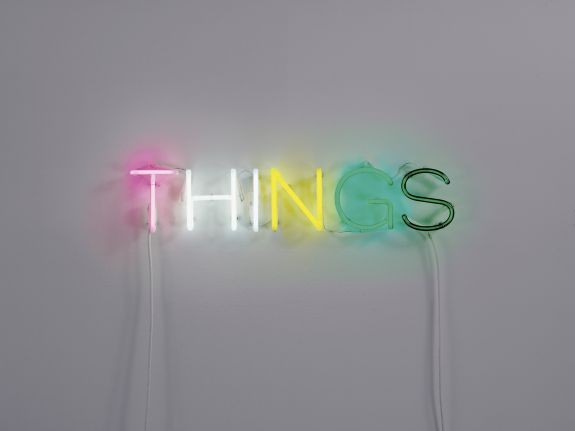 © Martin Creed
Work No. 845 (THINGS), 2007
Multicolored neon
6 in. (15.2 cm) high
Collection of Toby Webster, Glasgow, Scotland
Courtesy of the artist and Gavin Brown's enterprise, New York
MARTIN CREED
Martin Creed Plays Chicago
1 January - 31 December 2012

In works that range from intimate poetic objects to large-scale neon signs, Martin Creed (British, b. 1968) reevaluates the status of art with a generous sense of humor. As part of a yearlong residency at MCA Chicago, Creed brings his avant-garde sensibility to the building and the city. In each month of 2012, Creed unveils an artwork in a different space of the MCA, progressing upward through four floors of the building and extending his work outward to the sculpture garden and plaza and into the city of Chicago. Some works live as sculptures in the museum's public spaces, and some projects are site specific—for instance, murals in the atrium and café. Others still, such as a work that takes the form of crumpled balls of paper placed in each of the museum's public spaces, play with the notion of the carefully curated object. Extending his project beyond the MCA, Creed—who fronts a rock band—explores the city's vibrant music scene as well.

The artist's work and projects enliven the museum and the city and involve visitors in unexpected ways. As objects are presented throughout the building and city over the course of the year, Creed also gives several performances, building toward the US premiere of his first ballet, presented in the MCA's theater in the fall of 2012. Martin Creed Plays Chicago connects this renowned artist to the MCA and the city of Chicago in ways that are as multifaceted as his practice.

Creed is one of the United Kingdom's leading artists and winner of the 2001 Turner Prize. He lives and works in London and spends time in Alicudi, Italy. Creed's work has been exhibited widely at a variety of international venues, including the Museum of Modern Art, New York; the Moscow Museum of Modern Art; the Centre Pompidou–Metz, France; Tate Modern, London; and Van Abbemuseum, Eindhoven, the Netherlands.