Earthly Delights
28 Jun - 30 Nov 2014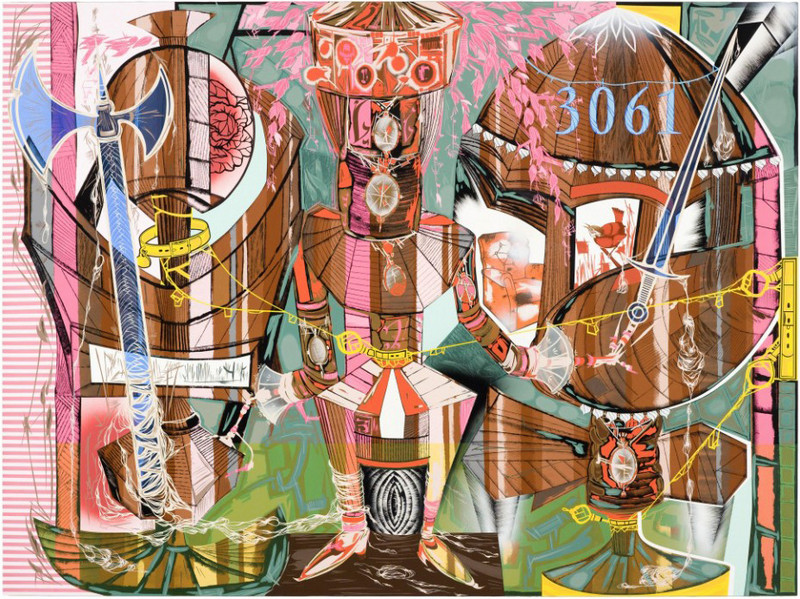 Lari Pittman
Untitled #14, 2003
Oil, lacquer and Cel-Vinyl on gessoed canvas over wood panel
76 x 102 in. (193 x 259.1 cm)
Collection Museum of Contemporary Art Chicago, Joseph and Jory Shapiro Fund by exchange, 2003.25
© 2003 Lari Pittman
Photo: Nathan Keay, © MCA Chicago
EARTHLY DELIGHTS
28 June – 30 November 2014

Earthly Delights brings together the work of eight artists who share a belief in the critical power of beauty. Drawn primarily from the MCA's permanent collection, and made between 1949 and 2006, the paintings, sculptures, and installations in this exhibition embrace the decorative in defiance of prevailing artistic trends. By reveling in pleasure, exploring private moments, and exuding sensuality, these works challenge the primacy of rationality and logic in modernism.

As they explore the connections among art, decoration, and design, the artists in Earthly Delights insist on the intrinsic value of beauty by engaging with social issues. Lynda Benglis's and Carol Bove's sculptures address the exclusion of women from the history of minimalism. Works by Nick Cave and Yinka Shonibare, MBE, delve into gender and racial politics and the legacy of colonialism, as well as the histories of performance, music, and dance. Paintings and installations by Balthus, Marc Camille Chaimowicz, and Lari Pittman question taboos related to sexuality.

Irreverent and playful, this eclectic group of artists subvert the conservatism of minimalism and other twentieth-century movements that eschewed making art in pursuit of pleasure. Earthly Delights reveals the way beauty can be used as a conceptual tool.

Earthly Delights includes works by Balthus, Lynda Benglis, Carol Bove, Nick Cave, Marc Camille Chaimowicz, Michelangelo Pistoletto, Lari Pittman, and Yinka Shonibare, MBE.

This exhibition is curated by Abigail Winograd, Marjorie Susman Curatorial Fellow.