Artists in Depth: Works from the MCA Collection
10 May 2008 - 01 Mar 2009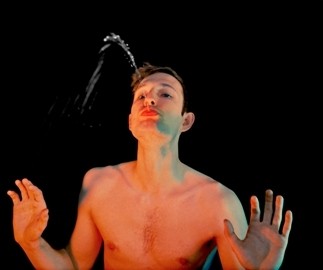 © Bruce Nauman
Self-Portrait as a Fountain (from the portfolio Eleven Color Photographs), 1966-67/70. MCA Collection, Gerald S. Elliott Collection. © 2008 Bruce Nauman / Artists Rights Society (ARS), New York.
ARTISTS IN DEPTH: WORKS FROM THE MCA COLLECTION

May 10, 2008 - March 1, 2009

Part 1: May 10 - March 1, 2009 (Kentridge)
Part 2: June 28 - February 22, 2009 (Golub, Nauman, Judd, Lockhart)
Part 3: July 5, 2008 - March 1, 2009 (Sherman, Walker, Sze)

During its forty-year history, the MCA has distinguished itself with groundbreaking exhibitions that have contributed substantially to the evolving history of contemporary art. These exhibitions have, in turn, stimulated the museum and its supporters to acquire important and often numerous pieces by these artists. A resulting hallmark of the MCA's collection is the presence of significant, in-depth bodies of work by artists ranging from Leon Golub, H.C. Westermann, Claes Oldenburg, Donald Judd, Lee Bontecou, Bruce Nauman, and Vito Acconci to Cindy Sherman, Ed Paschke, William Kentridge, Jeff Koons, Kerry James Marshall, Catherine Opie, and Sharon Lockhart, among others-some of the foremost contemporary American artists of our time.
Artists in Depth presents concentrations of work by several artists whom the MCA has collected in depth, or whose pieces in the collection are definitive examples of their singular aesthetic. As groupings of work comprising "mini-retrospectives" of some of the most interesting and important artists of our time, it foregrounds the museum's pioneering exhibition history and the quality and level of the strengths in its collection.
Approximately eight artists' work will be presented simultaneously, beginning with a group of drawings and a film by artist William Kentridge, whose work was featured in a major MCA exhibition. Part two and three of the exhibition centers on Bruce Nauman, a major innovator of the late 1960s onward of whom the MCA holds one of the largest and most significant institutional collections worldwide; as well as Cindy Sherman, an artist active since the late 1970s whose work was the subject of a major survey show at the MCA in 1997.
Painter Leon Golub, a figure of importance to Chicago beginning in the late 1950s onward, is represented by the MCA's key holdings of early and later works. The exhibition also juxtaposes concentrated groupings that are similar in sensibility and aesthetic but distinct in time period and media; works by Minimalist sculptor Donald Judd are situated adjacent to those of photographer/filmmaker Sharon Lockhart to reveal the commonalities as well as the differences that underlie their production. In addition, the show features large-scale installations by artists Kara Walker and Sarah Sze that in their monumental presence masterfully convey the essential qualities of each artist's work.
Showcasing key artists of the last forty years whose work has been and continues to be defining to international contemporary art and underscoring the MCA's role as a leader in and incubator of artistic innovation, Artists in Depth provides a new look at the composition of the MCA collection. Its concentration on individuals and their achievements in-depth complement the focus of other major presentations at the MCA that took place during its 40th anniversary year, and also point to the strong presence in the MCA's collection of works by Jeff Koons, who is featured in a major exhibition that will be simultaneously on view. The exhibition is curated by Elizabeth Smith, James W. Alsdorf Chief Curator and Deputy Director for Programs at the MCA.