A Year in Drawingimages
12 Jun - 01 Aug 2008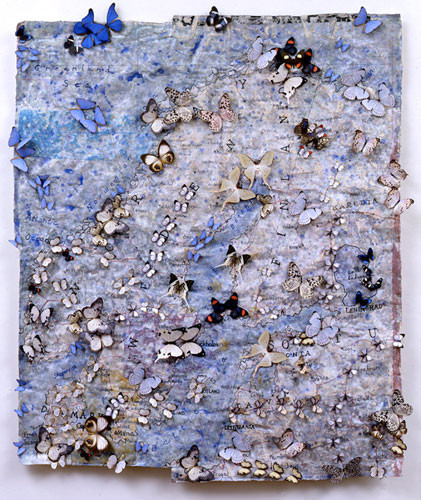 Jane Hammond
All Souls (Tisaluni), 2007
Gouache, acrylic paint on assorted handmade papers with graphite, colored pencil, archival digital prints, mica, eyelashes, rabbit fur and horsehair
60 x 51 1/2 x 3 inches (152.4 x 130.8 x 7.6 cm)
A YEAR IN DRAWINGIMAGES

Works by:

Louise Bourgeois
Iran do Espirito Santo
Angelo Filomeno
Andy Goldsworthy
Jane Hammond
Jim Hodges
Catherine Lee
Sol LeWitt
Nalini Malani
Emilio Perez
Jaume Plensa
Sean Scully
Kate Shepherd
Kiki Smith
Nancy Spero
Ursula von Rydingsvard

In A Year in Drawing, Galerie Lelong presents a diverse sampling of works on paper made by artists represented by or closely associated with the gallery. On view will be drawings that reflect a wide range of sensibilities, subject matter, and materials. The minimalist drawings of Sol LeWitt, Kate Shepherd, and Iran do Espirito Santo contrast with the works of Nancy Spero, Nalini Malani, Jaume Plensa, and Jane Hammond, who each incorporate text in their potent and evocative imagery. Both Kiki Smith and Jim Hodges are renowned for working with various media and contribute exemplary drawings to the exhibition.
For some of the artists, drawing is the primary medium for which they are known, while others in the exhibition have used drawings to inform or extend from their painting or sculptural work. Louise Bourgeois and Ursula von Rydingsvard make light-handed, spontaneous drawings distinct from the immense sculptures that are their hallmark, while Catherine Lee's works-on-paper directly recall her repetitious wall reliefs. Similarly, the graphite drawings of Angelo Filomeno depict subjects seen in his embroidery paintings and mixed-media sculptures, and the abstract watercolors of Emilio Perez are autonomous from yet evoke his paintings. For Sean Scully, on view will be drawings and sketchbooks that document the reductive patterns he brings to fruition in his paintings. In his Snowball Drawings, Andy Goldsworthy presents traces of the ephemeral and uncertain, themes that pervade his other works.