Tell It To My Heart
02 Feb - 12 May 2013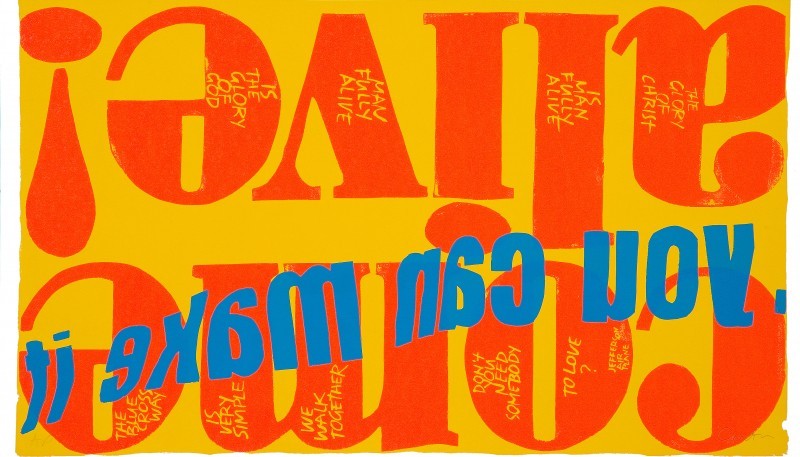 Corita Kent
come alive, 1967
courtesy of the Corita Art Center, Immaculate Heart Community, Los Angeles
TELL IT TO MY HEART
Collected by Julie Ault
2 February - 12 May 2013

This exhibition at the Museum für Gegenwarts-kunst Basel highlights a curated selection of works from the collection of Julie Ault. As a founding member of Group Material, a New York-based artists' collaborative that was established in 1979 and produced exhibitions and public projects around politics and aesthetics until the year 1996 it investigated new artistic formats that would leave more space for a greater variety of experiments.

Ault has also worked extensively as an artist, curator, writer and editor. The unique format of this exhibition was inspired by Julie Ault's visionary practice, deeply grounded in various forms of collaboration. These intense dialogues with artists have yielded many important exhibitions and publications as well as friendships. Most of the works in Ault's collection were acquired as gifts from artists with whom she has maintained an ongoing discourse. The exhibition is organized together with Ault and a team of individuals who have collaborated with her in different capacities over the last three decades, including the artists Danh Vo, Martin Beck, and Jason Simon. The collection itself highlights works from artists such as Felix Gonzalez-Torres, Sister Corita, Andres Serrano, Nancy Spero or Roni Horn, and many more. Some of the artists represented in the collection are also participating in the conception of the exhibition itself—reiterating the importance (and potential) of collaborative process in art. On view are more than 200 works that reveal a personal experience of an art community of the last 30 years, centered initially in New York. The initial incentive of this project was to bring these art works together, and "to create a situation in which it is possible to grasp how they relate to each other outside of their immediate domestic contexts, as a public exhibition that speaks and is engaged communally" (Ault).

Jason Simon conceived an extensive accompanying film program that will be presented on 14 evenings in either the project space Elaine – next to the museum – or at the Stadtkino Basel.