Wangechi Mutu
12 Nov - 07 Dec 2008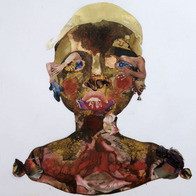 © Wangechi Mutu
Detail aus Untitled, 2008
Courtesy Susanne Vielmetter Los Angeles Projects, Photo: Bill Orcutt
WANGECHI MUTU
"In Whose Image?"

KUNSTHALLE wien project space,
November 12th - December 07th, 2008

The portrait is at the center of the exhibition featuring Wangechi Mutu. Like her fragmented and grotesque figures, it oscillates between attraction and repulsion, beauty and violence, glamour and trash. Born in Kenya and trained as a sculptor and an anthropologist, the artist has created a heterogeneous body of work in collage technique with a leaning towards the arabesque. In addition to a colourful mix of ink and clippings from magazines, the wide variety of materials she uses includes glitter, packing tape and rabbit fur.
In her collages, Mutu uses the human body as a site where she negotiates black, female identity between Western consumer culture, African politics and postcolonial history. Mutu's work bears witness to social conflicts while at the same time demonstrating the mythmaking power of contemporary art in an exuberant aesthetic.
Wangechi Mutu was born in 1972 in Nairobi, Kenya. She lives and works in New York.