Sonic Youth etc. : Sensational Fix
31 Jan - 10 May 2009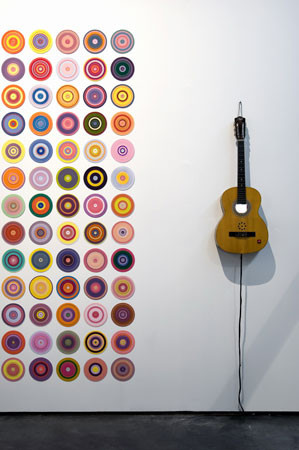 Michael (The Dead C) MORLEY
You Pose You Lose, 2008
Lee RANALDO, HWY SONG #1, 1996/99
copyright : Marc Domage
SONIC YOUTH etc. : SENSATIONAL FIX
Kunsthalle Düsseldorf and KIT — Kunst im Tunnel

31 January — 10 May 2009
Opening: Friday, January 30, 2009, 7 p.m.

The exhibition is devoted to the activities of the experimental guitar band Sonic Youth, which profoundly influenced style in the music and art scene from its founding in 1981. This is shown by the numerous joint projects of the band with artists, filmmakers, designers, and musicians, as well as by works of art that Sonic Youth has selected for the exhibition. The interdisciplinary show tells an alternative story of contemporary culture, of teenager rebellion, the restlessness of youth, of the craving for fame and the search for identity, gender roles, sexuality, and religion. This comprehensive project is being staged jointly by the Kunsthalle Düsseldorf and KIT - Kunst im Tunnel. The exhibition will be shown first at LiFE in Saint-Nazaire (17 June - 7 September 2008), at the new Museion in Bozen (10 October 2008 - 4 January 2009), and after Düsseldorf at the Malmö Konsthall. Accompanied to the exhibition the band will give a concert in Düsseldorf.

Participating artists:
Vito Acconci, Rita Ackermann, Jerry Aronson, Olivier Assayas, Dara Birnbaum, Angelique Bosio, Joe Brainhard, Glenn Branca, William S. Burroughs, John Cage, Ira Cohen, Tony Conrad, Sofia Coppola, Tacita Dean, Jeremy Earl, Barbara Ess, John Fahey, Jeff Feuerzeig, Marco Fusinato, Isa Genzken, Allan Ginsberg, Stefano Giovanni, Jack Goldstein, Mark Gonzales, Kim Gordon, Dan Graham, Rodney Graham, Matt Groening, Brion Gysin, Tim Hailand, Jeff Hartford, Todd Haynes, Dick Higgins, Ake Hodell, Jenny Holzer, Tim Irwin, Marc Jacobs, Cameron Jamie, Spike Jonze, Mike Kelley, Richard Kern, Jack Kerouac, Curt Kirkwood (Meat Puppets), Jutta Koether, Harmony Korine, Levy, Robert Longo, George Maciunas, Yukinori Maeda, Gerard Malanga, Manda, Christian Marclay, Paul McCarthy, Loren Mazzacane Connors, Jonas Mekas, John Miller, Maya Miller, Heath Moerland, Robert Mooney, Thurston Moore, Michael Morley, Bill Nace, John Olson, Roberto Opalio, Jim O'Rourke, Tony Oursler, Steven Parrino, Raymond Pettibon, Edwin Pouncey (Savage Pencil), Richard Prince, Lee Ranaldo, Ed Ruscha, Gus Van Sant, Wilhelm Sasnal, Dana Schutz, Jim Shaw, David Shrigley, Leah Singer, Mike Smith, Patti Smith, Robert Smithson, The Club in Shadow, Kathy Temin, Gokita Tomodo, Dennis Tyfus, Alan Vega, Jeff Wall, Mike Watt, Marnie Weber, James Welling, White Columns Archive, Christopher Wool, Shinya Yamamoto, Nate Young, Sonic Youth

SONIC YOUTH CONCERT
Friday, April 24, 2009
3001, Franziusstr. 7, Düsseldorf
Admission: 7.00 p.m.
Beginning: 8.30 p.m.