Yael Davids
11 Oct - 13 Nov 2011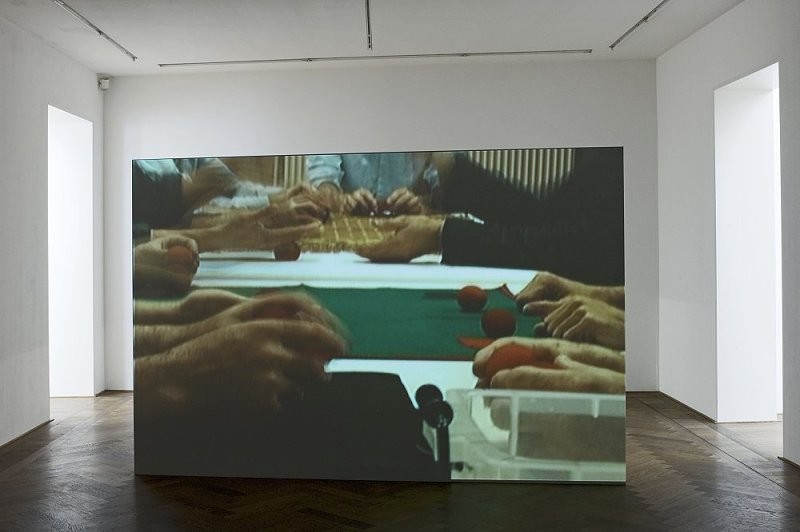 Yael Davids
Ending with Glass, 2011
Installation view
The Hand is Quicker than the Eye, 2008
Video projection
DVD
Courtesy the artist
Photo: Serge Hasenböhler
© Kunsthalle Basel, 2011
YAEL DAVIDS
Ending with Glass
11 September – 13 November, 2011

Kunsthalle Basel is pleased to announce the first comprehensive solo exhibition Ending with Glass by the Israeli artist Yael Davids (born in Jerusalem, 1968) in Switzerland. David's works are predominantly focused on the medium performance art and its potentialities of documentation. She often approaches a rendering of past performances through repetition: "I repeat my previous performance. It is now a score and I follow step by step my own footsteps—detecting the moments and things that were not named. I am the background. I am the stage. I am the story. I am a repetition. I am a repetition." (From the script Learning to Imitate in Absentia II, 2011).

Davids show has come out of the necessity to give shape to facts, thoughts and feelings that are difficult to convey as visual and physical presence: the memory of historical events, with individual biographies that are inscribed, over generations, in conflicted political history of a nation-in-the-making; and the experience of mourning for a beloved person.

In her work, Yael Davids attempts at turning her own existential experience and the memories of ephemeral, fleeting presence into a definitive shape, the shape that can be comprehended as an art work and thus become a voice in public discussion, rather than remain an intimate and personal story only. Such an attempt to give shape to what is not there anymore must involve a confrontation with absence and one's own speechlessness. Therefore a strong accent on the absence is put already in the works titles, such as End on Mouth in Absentia, a series of works that are related to the performance Davids made in 2004 at Platform Garanti in Istanbul. The performance involved three actors and three musicians physically contained inside two large flat wooden boxes, invisible to the audience. Outside, twenty-one assistants lifted and turned the boxes in sync with the script that the actors recited from inside, while musicians played their instruments according to the score, also hidden from view. The work juxtaposes two different kinds of presence: the performers who lift the boxes are visible and therefore their activity is to an extent the only visible performative act, but the true performance involving music and spoken word takes place inside the boxes and the audience's access to it is literally, physically barren. In the performance, one of the actors refers to the familiar myth of Orpheus and Eurydice: "As you gain your voice you will lose your sight. Orpheus' voice has the power to bring Eurydice to life, but the moment he looks back at her she is doomed to die". The contradiction between the visibility and meaning is brought to the point when at the end of the performance the same character speaks from inside of the box: "If there is no wall in front of me I cannot see. If there is no hand on my mouth, I cannot talk".

In the second gallery Davids shows, among other works, a sculpture with several geometric cuts in thin window glass that correspond to positions of props used in her performance Learning to Imitate in Absentia I from this year. The glass piece was produced in the glass factory Oran Safety Glass that was established in 1979 in kibbutz Tzuba (Israel) where the artist was born and grew up. The factory started with production of window glass but slowly, as the Palestine-Israeli conflict escalated in subsequent Intifadas, the demand appeared for thicker and stronger, bulletproof glass, resistant to machine gun fire and soon even to RPB rockets and bazooka grenades. Zuba was a Palestinian Arab village west of Jerusalem that was depopulated and destroyed in 1948. The site of the village lies on the summit of a conical hill called Tel Tzova and it was built on the ruins of a Crusader castle. In two last galleries, two samples of impact-resistant security glass produced by the factory are used as part of installation pieces.

The idea of isolation of performing body and tension between imprisonment and performance is elaborated in the video piece The hand is quicker than the eye from 2008. The work has been shot in a closed interior space and the actors are the inmates of an unidentified penitentiary institution. The camera's focus on the inmates' hands and frequent close-ups on details further enhance the feeling of isolation and containment, which is also a result of legal constraints of the work process, in which identity of prisoners could not be revealed, therefore faces could not be shown and testimonies made could not be ascribed to concrete individuals. Rather than showing the person, Davids focuses on perfecting of an abstract skill: the inmates learn to perform simple magic tricks with accessories, such as balls, ropes and cards. Davids takes a record of these micro-events of hands and objects as a monument to personal freedom that can be conceived in the mind, as one of the prisoners put it "My body they can lock down but my soul is free, free as a bird in the air".

Another on-going interest of Yael Davids is in the notation of performance and a possibility of representing the event through a display of residual objects that have capacity to evoke an act that took place. Not all objects in the show are props that are left from performances in which they were actually used, but all of them can be read as extensions of ideas of performances. And thus in the second last rooms, an ensemble of objects such as flip chart, sound insulation boards, monitor, wooden stairs can be activated as props in Learning to Imitate in Absentia (2011) performance, but they also remain an installation that is independent from the performance.

In Learning to Imitate in Absentia II, a performance newly developed for the Kunsthalle Basel, Davids revisits the previous choreography of Learning to Imitate (2007-2010) and the different positions she assumed: Following a specific grammar, Davids moves from the vertical — she stands — via the diagonal — she hangs on a rope — through the horizontal — she lies on the floor—, while reciting a self-written text. With these movement sequences Davids takes on the alignment of the works in the exhibition spaces: The show starts in gallery one where large-sized boxes are positioned upright, followed by glass sheets and acoustic boards leaning on the wall in gallery four, ending in the last space where the same objects are lying horizontally on the floor. Hence, the performance functions on a formal level as the index for the whole exhibition concept.

The most elaborate installation includes historical art works from two different cultural contexts: a painting by Ferdinand Hodler Thunersee mit Grundspiegelung from 1904 and Japanese and Korean tea bowls made between the 16th and 18th century that belong to the type called "mended ceramics", in which parts that chipped off were fixed with metal fillings and porcelain replacements, thus making the repaired object more precious than the new one. Rather than seduced by the auratic and artistic value of the objects, Davids used them as functional elements, looking at their meaning and structure. Hodler's painting represents the extreme idea of horizontality and the artist's landscape's have often been analyzed as symbolic and structural representations of corporeality. Horizontality is also embodied in other parts of the installation in this gallery, such as glass sheets and clay-covered wooden boards that have been positioned flat on the floor, suggesting passive mode, lack of action, the moment of stasis and death, as opposed to the previous gallery's suite of vertical, active and usable objects-props.

The exhibition is made possible by the generous support from LUMA Foundation.
Supported by Mondriaan Foundation.

Yael Davids was born in kibbuz Tzuba/Jerusalem, Israel in 1968. She lives and works in Amsterdam. Davids studied Fine Arts at the Gerrit Rietveld Academie (Amsterdam), Sculpture at the Pratt Institute (New York) as well as Choreography and Dance Pedagogy at the Remscheid Academie (Remscheid). Solo exhibitions (selection): Learning to Imitate in Absentia I, Picture This, Bristol (2011); Learning to Imitate, Picture This, Bristol (2010); If I Can't Dance Tonight, Frascati Theatre, Amsterdam (2009); Project Mechelen, organisiert von MuHKA als Teil von All that is Solid, Mechelen (2008), Learning to Imitate, Objectif Exhibitions, Antwerpen (2008); Yael Davids: End on Mouth, Galerie Akinci, Amsterdam (2007); Where Time Becomes Art, Palazzo Fortuny, Performance Abteilung Venedig Biennale (2005), If I Can't Dance, Utrecht, Den Bosch and Leiden (2005); Yael Davids Performances, Platform Garanti, Istanbul (2004); Yael Davids 1994–2003, Museum De Paviljoens, Almere (2003). Group exhibitions (selection): Research Programme Sarah Pierce, Kunsthal Charlottenborg, Kopenhagen (Filmscreening/Gespräch) (2011), One Night Show, Kunsthalle Basel (2011); Sheffield Biennial 2010, Sheffield (2010), If I Can't Dance... Edition ‒ Masquerade, Play Van Abbe, Van Abbemuseum, Eindhoven (2010), Make the Most of Now, Kunsthalle Exnergasse, Wien (2010); Democratic Acts, Bolzano (2009), The 2nd Herzliya Biennial, Herzliya, Tel Aviv (2009), All That Is Solid Melts Into Air, MuHKA Museum voor Hedendaagse Kunst Antwerpen (2009); Here We Dance, Tate Modern, London (2008), Mutti ist Böse, Galerie Barbara Thumm, Berlin (2008); A line, a word, a sentence, Playground Festival, Stuk Artcentre, Leuven (2007), Artempo: Where Time Becomes Art, Palazzo Fortuny, 52. Biennale Venedig (2007), Memorial to the Iraq War, ICA, London (2007); Fear No Film Festival, Utah Arts Festival, Salt Lake City (2005), Slow life, Museum Kunstpalast, Düsseldorf (2005), If I Can't Dance, Utrecht (2005); Now What? Dreaming a Better World in Six Parts, Bak Basic voor actuele kunst, Utrecht (2004); Don't call it performance, Museo Centro de Arte Reina Sofia, Madrid/Centro Parragall, Murcia (2003).