Sirah Foighel Brutmann and Eitan Efrat
07 Apr - 02 Jun 2013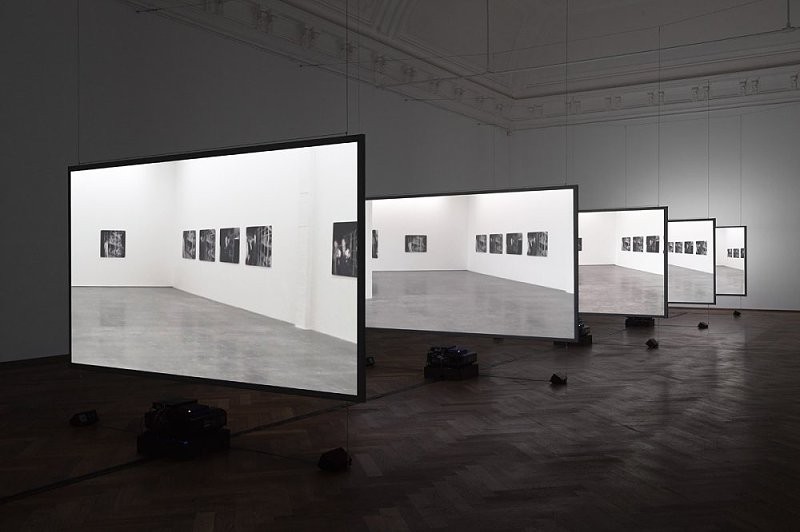 © Sirah Foighel Brutmann and Eitan Efrat
Journal, Kunsthalle Basel 2013, installation view
Journal, 2013
takes #3, #11, #14, #17, #20, HD, color, 16:9, stereo sound, BE, 2013, 16'/
courtesy the artists
SIRAH FOIGHEL BRUTMANN AND EITAN EFRAT
Journal
7 April – 2 June 2013

Journal is the title of Sirah Foighel Brutmann and Eitan Efrat's first exhibition in Switzerland, and also the title of their latest work. The two Israeli-born artists, now living in Brussels, present two works that both have photographic material at their core: Printed Matter (2011) and Journal (2013). The material in question is taken from the archives of André Brutmann (1947–2002), Sirah Foighel Brutmann's father, who worked as a foreign freelance press photogra- pher in Israel and Palestine. Over the course of his career, Brutmann covered the Israeli-Palestinian conflict, the First and Second Intifada as well as other political and social events, and had pictures published in magazines including TIME in the United States and Der Spiegel in Germany. Sirah Foighel Brutmann and Eitan Efrat are showing their 5-channel video installation Journal (2013) in the Oberlichtsaal at Kunsthalle Basel. Five screens, all identical in size and each with its own projector, are arranged one behind the other. At first sight it looks as if the same video is playing on all five screens. Only upon closer inspection and after some time do we realise that we are looking at five different sets of footage, all shot in the same place.

For Journal, Sirah Foighel Brutmann and Eitan Efrat have explored a particular group of photographs from André Brutmann's archive, namely the pictures he took at Yad Vashem, the 'Holocaust Martyrs' and Heroes' Remembrance Authority', which was founded 60 years ago this year. As a press photographer, André Brutmann documented official visits to Yad Vashem and took pictures of figures from public life. The artists chose a selection of these photographs, had them developed in various sizes and mounted them into an exhibition in a contemporary art centre in Brussels. The eponymous Journal refers to the photographs themselves, which constitute a record of a series of past events, and to the footage of an exhibition that was staged only for the purpose of being documented. Once the pictures were installed, the camera operator proceeded to walk around the exhibition with the camera rolling, repeating the tour at various different times of day but always following the same route. The precise instructions given by the artists turned the tour itself into a performative act. Of the 21 tours that were filmed in total, Foighel Brutmann and Efrat have selected five, which they present as a video installation that suggests five similar but nonetheless slightly different approaches or possible narratives. They are arranged in chronological order of filming, but although the route taken by the camera is always the same, the operator does not always advance at the same pace or keep his hand-held camera equally steady every time. There is silence in the room, occasionally interrupted by the sound of a passing tram. We hear the cameraman breathing as he tries to remain still in front of a picture. Visible in the background of every André Brutmann photograph is a section of photo wallpaper, showing a blown-up detail of a photograph taken inside one of the barracks at Buchenwald concentration camp on 16 April 1945. Emaciated prisoners, lying or propping themselves up on their wooden bunks, are looking straight at the lens. The photo was taken by H. Miller, a private in the US army, who documented the liberation of the Nazi camp in images. The photograph has since become part of our collective visual memory. The picture of starved prisoners became a symbol of cruelty and at the same time of liberation, a single image that summed up all that had gone wrong in the years before but which cannot truly portray it.

Journal is a multi-layered work, in which the original image of anonymous Buchenwald inmates turning their gazes towards the photographer has been further mediated by the journalist and the cameraman (as well as through the fact that the images were displayed in two different exhibitions along the way), and delivered to us, the viewer, through their lenses. The image, which can be read as a blind spot, is captured at three different moments in history and three different locations: in 1945 in Buchenwald by Private H. Miller, between 1986 and 2000 at Yad Vashem by André Brutmann, and in 2013 at an arts centre in Brussels by cameraman Mathias Windelberg on behalf of Foighel Brutmann and Efrat.

André Brutmann's photographs are also at the heart of Printed Matter (2011), the second work in the show. Although the artists' approach seems similar, the source material is here far more personal. Printed Matter is an approximately 30-minute rear projection being screened in the second gallery, a more intimate setting. We watch as a succession of contact prints, each corresponding to a roll of film shot between 1982 and 2002, are laid on a light box, accompanied by a voiceover in which we hear Brutmann's long-term partner and colleague talking about individual pictures. Sometimes she describes what is in the picture, at others she offers some background information. If André Brutmann still had a few shots left in the camera at the end of a day's work, he would photograph his family. Among the pictures of demonstrations and riots, political events and fashion shows that are the daily fodder of all press photographers, we see serene family scenes and touching portraits. These record Sirah Foighel Brutmann's childhood and the birth of her brother; we see them playing and we get to know the whole family. The voice shares with us background details that only a contemporary witness could know. History is told through images, presented in the chronological order of the contact sheets. Picture by picture, we get to see what André Brutmann saw in 20 years, with live commentary by his wife, who played a part privately or professionally in most of the scenes — both personal and political — passing before our eyes.

The work Journal references the history and the inheritance of the Holocaust. H. Miller's photograph of the prisoners at Buchenwald is probably one of the most complex images of our time, since it attempts to show something that, in the view of many philosophers and historians, simply cannot be portrayed: the horror of the Holocaust. But that immediately brings us to the next problem, which lies in the fact that members of later generations can only acquire knowledge via the mediation of history. And nowadays via a mediation that is trying to figure out how to deal with mediation. Journal takes a step towards understanding the function of images in the mediation of history. Thus we have the 1945 document of history being studied in turn by a post-war generation in a setting that was specially created for this purpose: Yad Vashem. Then we have the projection by Foighel Brutmann and Efrat documenting the document of a contemporary witness. Without aestheticizing, Journal creates a space of memory that depicts how the Holocaust might be remembered and yet does not gloss over the fact that what happened cannot be portrayed through a single photograph. As a work, Journal by Sirah Foighel Brutmann and Eitan Efrat addresses specific experiences of different generations very directly; in its repetitive installation with five screens suspended one behind the other, it shows not only how video and photography can represent the object of memory, but also how moving through the exhibition can re-empower the visitor as an active subject vis-à-vis historical memory.

The exhibition is generously supported by
Dreyfus Söhne & Cie. AG, Banquiers
Dr. Georg und Josi Guggenheim Stiftung

///

Eitan Efrat (born 1983 in Tel Aviv, Israel) and Sirah Foighel Brutmann (born 1983, in Tel Aviv, Israel) live and work in Brussels, Belgium. He graduated with a BFA at the Audio-Visual department (VAV) at the Gerrit Rietveld Academie in Amsterdam, NL. Sirah Foighel Brutmann studied four years in Choreography and Performance at the "Per-forming Arts Research and Training Studios" (P.A.R.T.S.) in Brussels, Belgium.

Awards: Marian McMahon Award, Toronto, Canada (2012); Research Grant, Vlaams Gemeenschap, Bel-gium (2012); Project subsidy, Vlaams Audiovisueel Fonds (VAF), Belgium (2011); Special Mentioning at Napolidanza, Napoli, Italy (2010); The Rabinovitch Fund for Arts, Israel (2010); Cinema Jury Prize at Oberhausen Film Festival, Germany (2009); The America-Israel Fund, Israel (2009).

Exhibitions (Selection): STUK, Leuven, Belgium (2012); A Generation, Petah-Tikva, Contemporary Art Museum, Israel, curated by Avi Feldman (2010); Mash Up, European Media Art Festival, Osnabrück, Germany, curated by Hermann Noering; Out Of Bounds, P8 Gallery, Tel Aviv, Israel, curated by the artists (2009).