Rita Ponce de León
02 Feb - 30 Mar 2014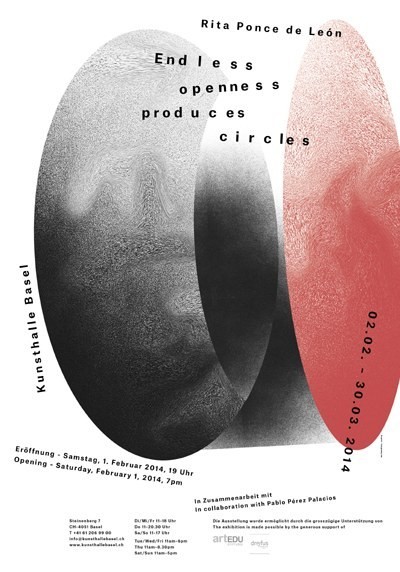 Rita Ponce de León
Endless openness produces circles, in collaboration with Pablo Pérez Palacios, poster, Kunsthalle Basel 2014, Design: Dongyoung Lee.
RITA PONCE DE LEÓN
Endless openness produces circles
2 February – 30 March 2014

In collaboration with Pablo Pérez Palacios

Rita Ponce de León (*1982, Peru) lives and works in Mexico City. Her works have their starting point in drawings, which are in some cases presented as stand-alone works and in others transformed into wall paintings and reliefs. Both abstract and figurative, these drawings often arise out of the artist's daily conversations with friends and strangers, as if they were reports or notes.
For the Kunsthalle Basel, the artist worked with Mexican architect Pablo Pérez Palacios to develop an exhibition concept that extends to architectural transformations of space as well as drawings. Rita Ponce de León aims to create a scenario that invites visitors to think and also to become aware of their own body. By combining inside and outside as an open space, she invokes new possibilities of perception.